Roasted Eggplant Pasta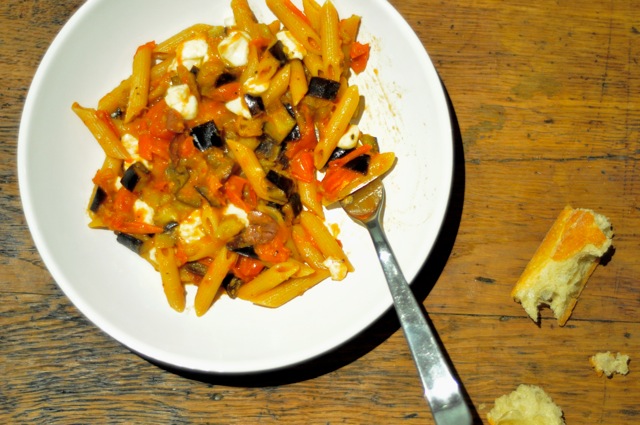 Now that eggplant and I are BFFs (and that nightmarish salt/drain/wipe off salt business is in my rear view), I can't stop thinking about what to do with the big purple. I was slicing and roasting for awhile, then splitting in two and roasting, but to cut down on time (and who doesn't want to do that?) I figured I could just dice it up and I'd have my eggplant ready to eat in no time at all.
Which is where I began with this super-easy weeknight dinner, which took less than a half-hour to put together from start to finish (of course I'm not including the dreadful standing in line at the stinky stinky Franprix, which always takes longer than it should, or that I am ever in the mood for). This is sort of a deconstructed/riff on Eggplant Parmesan, and kind of a little bit Greek, but more than anything, it's satisfying and quick to make, which I like, and I figured you would, too.
I would've added some fresh oregano if I'd had any, and it would've made this whole dish a lot prettier and added a nice finish. But I didn't, and I didn't want dried oregano to get in the way of the subtle smokiness of the eggplant and teensy hint of cinnamon, both of which came together in that delicate sort of harmony that you rarely find these days, what with everybody trying to elbow each other out of the way to make their way through the crowd (people and flavors, you know who you are). So I kept this as simple as I could, so eggplant, tomatoes and the rest could all live together, and each one could have their say.
I realize this is a bit slightly ahead of the tomato season (I used cherry tomatoes and it was lovely), but come summer when those candy-sweet ones are available, this will be even better.
Roasted Eggplant Pasta
Makes 2 dinner-size servings
2 medium eggplant, chopped into 1/2-inch pieces
olive oil
sea salt and pepper
2 garlic cloves, minced
a pinch of red pepper flakes
18 ounces/500 grams of cherry tomatoes, halved
10 Kalamata olives, split in half and pits removed
1 teaspoon of honey
a pinch of cinnamon
2 ounces/50 grams of fresh mozzarella, diced
4.5 ounces/125 grams of whole wheat penne pasta
1. Preheat the oven to 450°F/230°C and line a cookie sheet with foil. Toss the eggplant with a good amount of olive oil (this'll depend on how large your eggplants are, but generally I use 4-5 tablespoons), some sea salt and pepper and spread out on the cookie sheet. Cook for 20 to 30 minutes or until the edges start to brown, making sure to flip these to the other side about halfway through.
2. While the eggplant's roasting, put a little more olive oil in a large skillet and add your garlic and red pepper flakes. Cook this over medium heat just until you can smell the garlic; then add the tomatoes, Kalamata olive pieces, honey, and pinch of cinnamon. When the eggplant's ready, add this to the mixture, too.
3. Boil some salted water for your pasta, toss it in, and when the pasta's al dente, drain it and add it to the sauce in the skillet. Stir this around so all of the pasta is coated with the sauce, and at the last minute, add the mozzarella. Gently toss and serve — this way, you'll have lots of chunks of cheese throughout.