Roasted Potatoes with Ramp Pesto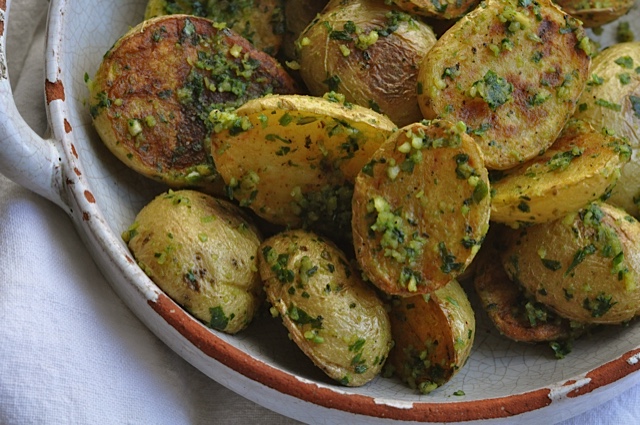 "Hello, Texas!" shouted the vendor at my new favorite vegetable stand when he saw me walk past with my dog Rose in tow. I waved back.  "Bonjour! Ca va?" I said, and took my place at the back of the line.
Then I saw these gorgeous green leaves popping out of the corner of the box of deep purple Japanese lettuce that looked like roquette. Just one bunch left. "What's this?" I asked.
Green garlic, he told me. Green garlic…green garlic? Wait, these were ramps! The wild spring vegetable that's related to leeks and scallions that everyone swoons over but I'd never seen, nor tasted, before. He said the season was almost over, maybe one more week."What do you like to do with them?" I said. "I just chop it up and make a paste," he said.
A pesto. That's what he meant. So that's what I did.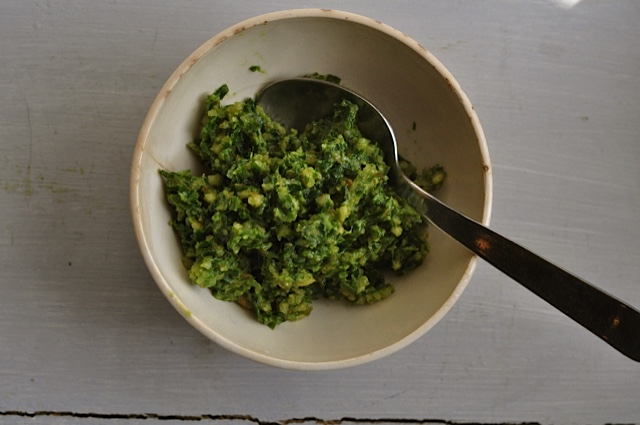 There is nothing quite like it. The flavor is delicate, light, and almost fleeting, like wisps of spring magic. Not harsh and nary an ounce of bitterness. Definitely swoon-worthy.
I made some potatoes to toss the pesto with and thought it would be a perfect dinner side with a rotisserie chicken from Go-Go Poulet. But of course I forgot to get a chicken so I just ate the potatoes. Which felt totally okay.
Roasted Potatoes and Ramp Pesto
Makes 4 servings
1 pound of small potatoes, cut in half
1 tablespoon olive oil
sea salt and pepper
1 bunch ramps
1 tablespoon olive oil
¼ cup walnuts
2 large basil leaves
sea salt
Preheat your oven to 400°F.
Put the potatoes in a bowl and toss with the olive oil and a pinch of salt and pepper. Lay them out on a cookie sheet flat-side down. Cook until they've browned and begin to wrinkle, about 20 minutes. Flip them over to finish cooking.
Meanwhile, make your pesto: Put the ramps, basil leaves, olive oil, walnuts, and salt in your food processor and pulse until combined. You may do this in advance.
When the potatoes are done, remove them from the oven into a large bowl and toss with the ramp pesto. Serve immediately as a warm side, or as a potato salad for a picnic.