Roasted Red Pepper Dip/Muhammara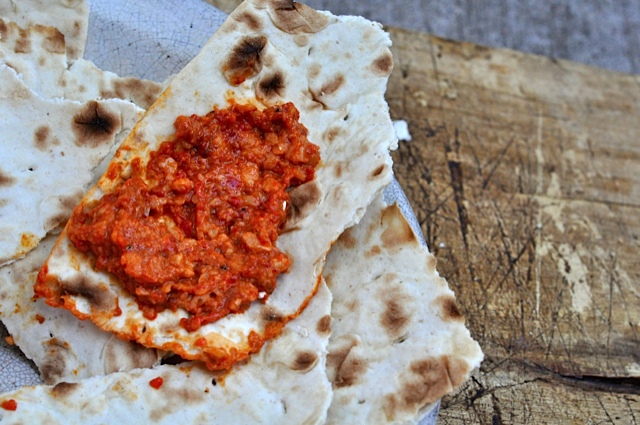 A few years ago, I was invited over to a friend's house for dinner in Paris. He and his wife were from Syria, and they had one of the sweetest love stories I'd ever heard. Sasha was working in Paris as a handyman, and she had come to visit friends. The families knew each other, but she and Sasha had never met. Her parents, who were not so discreetly trying to play matchmaker, gave her his number so she could get in touch with him while she was in town. But she lost the number.
The day before she was leaving to return home, already packed, she went to mass, and as she was walking out of the church, she bumped into –literally– Sasha. They had coffee, which lasted all afternoon. She cancelled her flight, and stayed in Paris with him, in one of the teensiest apartments I've ever seen, probably not even 200 square feet. They soon married.
That night for dinner, in their tiny apartment in the upper Marais, she served a red pepper dip as an appetizer with crusty pieces of a French baguette. We told stories to each other in French, our second language in our adopted home, which became easier with each glass of wine.
I tried to recreate this dip for years, but it never tasted the same. I remember when I asked her about it, she told me that it was just red peppers, garlic and oil. Not long ago, I thought about this dip again, did some research and found the secret ingredient – pomegranate molasses, which is more tart than sweet. Like love sometimes.
Roasted Red Pepper Dip/Muhammara
Makes about 2 cups
         a 7-ounce jar of roasted red peppers, drained
         1 clove of garlic
         1 stale or toasted pita, torn into pieces
         ½ cup of walnuts, toasted then roughly chopped
         juice of half of 1 lemon
         2 teaspoons of pomegranate molasses
         1 teaspoon of ground cumin
         ½ teaspoon of sea salt
         ½ teaspoon of Aleppo pepper (or crushed red pepper flakes)
         ¼ cup of olive oil
          pita bread, for serving
Put everything except the olive oil in your baby food processor and pulse until well mixed. Drizzle in the olive oil, and taste for seasonings. This is best if you let it rest for an hour or so before serving.