Roasted Veggie Enchiladas with Goat Cheese and Salsa Verde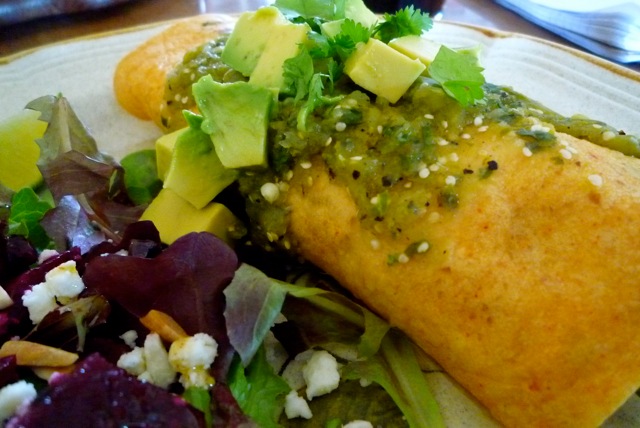 Driving back to Mom's from the Happy Nail Spa (home of the $32 mani-pedi) the other day, I realized that between running around to try and find an internet connection, zipping in and out of Radio Shack, Target, and other Denton retail gems, I'd somehow skipped lunch.
It was 5 p.m., and still 100 degrees, but I wanted Tex-Mex. I wanted to go fetch Mom, drive the half-hour back into town, and eat at Mazatlan, where I would order up the beef brisket enchiladas, with refried beans, rice and guacamole.
But I knew I wouldn't be able to talk her into that.
I was driving along I-35 North, coming up on the exit for Sack 'n Save, so I pulled off, bought tomatillos, jalapenos, cilantro, and some fresh tortilla chips, and headed on home. We'd still not eaten the zucchini that we bought at the farmer's market the week before, and I knew that I could make something lighter, yet Tex-Mexy, too.
Turns out, it my little enchiladas were quicker to make than a drive into town.
While I roasted the zucchini and the asparagus, I made the salsa verde. Then, I simply stuffed a couple of flour tortillas (these were the red chile ones from Central Market) with the veggies, along with some fresh goat cheese, and popped them in the oven for 10 minutes to warm through.
You could also eat this cold the next day, as a wrap. The key is to cut the veggies about the same size, in 2-inch pieces, so there's less fallout.
Roasted Veggie Enchiladas with Goat Cheese and Salsa Verde
Makes 4-6 enchiladas
2 large zucchini (I used the light green-skinned and a dark one)
1-2 medium yellow squash
1 bunch asparagus, ends trimmed
4 oz. (113 grams) fresh goat cheese
olive oil
sea salt
pepper
4-6 flour tortillas
1 recipe salsa verde
Preheat oven to broil.
Slice the zucchini and squash in 2-inch long fat matchsticks, and lay on a foil or parchment-lined cookie sheet, along with the asparagus (you may need two cookie sheets, depending on how much you have).
Lightly drizzle with olive oil and sprinkle with sea salt and fresh cracked pepper. Pop into the oven, and watching closely, roast until browned on both sides. This will take 10-15 minutes, depending on your oven.
Reduce oven temperature to 350 F.
Lay flat one tortilla at a time and stuff with zucchini, squash, and asparagus. Dollop approximately 2 tablespoons of goat cheese on each.
Roll up, and with the open side down, put in a casserole dish. Spoon some salsa verde on top, cover with foil, and pop into the oven for 10-15 minutes, or until the cheese melts.
Serve with chopped avocado, cilantro, and lime.