Roquefort Crispbread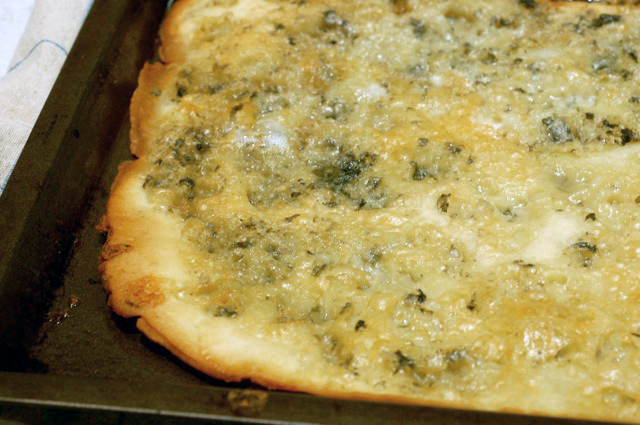 I'm not exaggerating when I say that this is one of the best things that I've made in a long time — a thin-crusted bread covered in Roquefort crumbles (a lot of Roquefort crumbles, which is why the entire top is green), and baked for just 15 minutes in a super-hot oven.
See how crispy that brown edge is? See how thin? See how cheeeeezy?
My mouth's watering again, just thinking about the fun of that first bite.
The craziest thing is how this is made — from a batter, not a dough — with vodka as one of the wet ingredients, and then poured into a sizzling hot pan brushed with olive oil and slipped into the oven. The cheese sinks into the batter and cooks right into it — it's pure alchemy, this is.
I found this recipe in Saveur, and it's really for what's called alevropita, or feta tart. Because my feta had just gone south, and I had a brand new chunk of Roquefort in the cheese drawer, so I decided to do a swap. No one would mind, I figured. Certainly not me.
I didn't intend for X and I to eat the whole thing in one sitting, but yes indeedy, we did.
I think that any good melty cheese, stinky or not, will work here, in addition to the feta. I've got a notion to experiment with cheddar and jalepeños, and swap out tequila for vodka, for the next round.
Roquefort Crispbread
Adapted from a recipe in Saveur magazine
4 tablespoons olive oil
2 teaspoons vodka
1 egg
1 ¼ cups flour, sifted
¼ teaspoon sea salt
⅛ teaspoon baking powder
5 oz. Roquefort, crumbled
Heat oven to 500 F.
1. Put a 10″ x 14″ rimmed baking sheet in the hot oven for 10 minutes, or while you make the batter.
2. In medium bowl, whisk together 2 tablespoons of the olive oil, egg, vodka, and 1 cup of water. In a separate bowl, whisk the flour, salt and baking powder. Pour the wet mixture over the dry and whisk until smooth.
3. Pull the hot pan out of the oven and brush the other two tablespoons all over the surface and sides. Add the batter to the pan, using a spatula to evenly distribute. Sprinkle the cheese all over the batter, and slide into the oven for 20 minutes (or a little less if you're using the convection setting).
Slice and serve or just tear into pieces.
Would be great with feta, as it was originally intended, or any other great melty cheese. I'm using cheddar/jalapenos/tequila next time.