Rose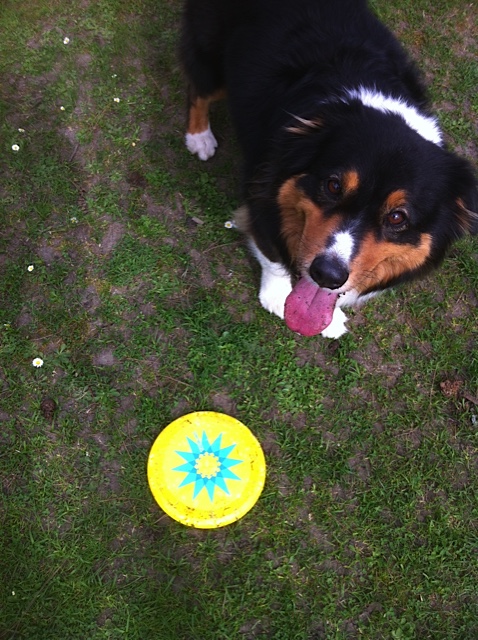 Rose has become a Frisbee dog. When she was first learning to catch the it's-not-a-ball (!) but flying disc at the little park down the street from where we were living in Santa Fe, she'd quickly get tired and declare the Frisbee fetch over.
Now we play every afternoon at the Bois de Boulogne and she is a killer. She'll catch it in mid-air, jumping up to meet it with her teeth, or bump it with her nose, volleyball-like, and chomp down on it with the confidence of a Border Collie. It's quite the scene. People stop and watch. They ask me if it was hard to teach her. No one throws Frisbee to their dog in Paris.
Rose and I are otherwise out and about all day long. She goes to the market with me, where she gets bits of ham from the Daniele at the Italian stand, and she has learned to sit quietly at the front of the stinky Franprix or the Carrefour when I need to run in for something quickly. She and I do all sorts of errands together, whether it's mailing a package to someone back home at the post office, going to the bank to say hello to my banker Arnaud, or stopping into the boulangerie around the corner for a baguette, which she always gets a bite of on the way home.
But she'd rather be playing Frisbee. I know this. And I'm getting better at tossing that crazy thing…you just might find the two of us on a beach, wearing bandanas on our heads, next.