Salmon-Lentil Salad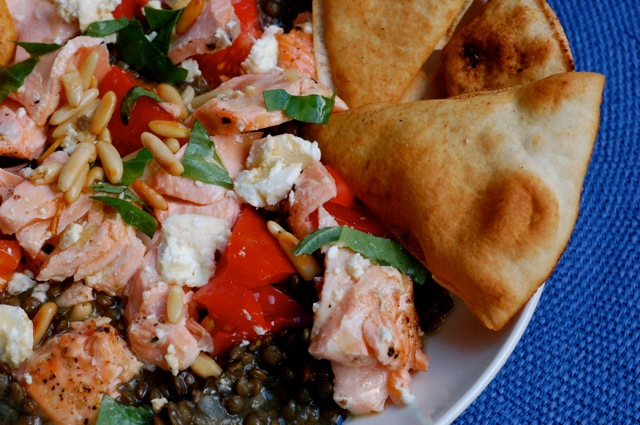 Continuing this summer's theme of keeping the oven in "OFF" position as much as possible, I came up with this little number, a super-simple, tres Frenchy way to eat salmon.
Here's what happened: I'd made the lentils a day before, and they were hanging out in the fridge, just waiting for something to come along and jazz them up. Enter salmon — I consider myself lucky to have a fish guy that sets up at the St. Didier market every Saturday, and sells super-fresh fish, and at a reasonable price, which is always a bonus in my Birkin/Goyard totin' quartier. (Remember, I'm the one in beat-up cowboy boots, with a hemp Whole Foods/London bag slung over my shoulder.)
All I did was cook up the salmon, let it cool, and make the dressing. About 15 minutes, tops.
Despite the heat that we've had around here, I'm really enjoying the challenge of cooking in a different way. Without the benefit of an A/C, I'm constantly thinking of what sorts of foods will be cool, light, and tasty, too. This scores high in all three categories — or as X likes to say when he takes a bite of something new and likes it instantly, "Winner!"
Salmon-Lentil Salad
Serves 2
2 pieces of appx 130gram/4.5 oz salmon filets, with skin
2 tablespoons olive oil
¼ teaspoon sea salt
¼ teaspoon pepper
680 grams/3 cups cooked lentils du Puy, recipe follows
125 grams/4.5 oz fresh brebis or chevre
1 medium tomato, chopped in large chunks
4 leaves basil
2 ounces toasted pine nuts (for garnish; optional)
Noisette vinaigrette, recipe follows
Preheat oven to broil.
1. Rinse and pat dry the salmon, and put about 1 tablespoon of olive oil on each, making sure to evenly coat (and include the skin). Place on a parchment-lined cookie sheet, salt and pepper, and slide into the oven. Watch this carefully — it'll only take 7-10 minutes to cook, depending on the thickness of your salmon. When it's cooked, just let it cool, with a little foil tent on top if you'd like for it to stay a bit warm.
2. Assemble the salad. Spoon 1 1/2 cups lentils in a shallow bowl. Flake the salmon on top of the lentils, then add pieces of the brebis or chevre, the tomatoes, the basil and the pine nuts. Drizzle a bit of the vinaigrette over it all and serve.
Note: I like this best cold, as a summer dish, but you could serve it warm, too.
Lentils
500 grams (1 pound) lentils du Puy, rinsed
½ medium white onion, chopped
2 cloves garlic, minced
32 oz water
2 tablespoons olive oil
1. Drizzle olive oil in a medium stockpot, add the chopped onion and minced garlic, and turn the heat onto medium and cook until the onion becomes translucent, 5-10 minutes. Add the lentils and water and cook until it boils. Cover, and cook for 45 minutes, or until the lentils become soft, but not mushy. Be sure to check the lentils every now and then as they cook – you may need to add a bit more water as they cook.
2. When the lentils are cooked, let them cool and then put in a container in the fridge until you're ready to eat them.
Noisette Vinaigrette
⅓ cup sherry vinegar
1 teaspoon Dijon mustard
1 teaspoon minced shallots
pinch sea salt
pinch pepper
⅓ cup olive oil
⅓ cup noisette (hazelnut) oil
1. Put everything but the olive oil and noisette oil in a jar (I always use old jam jars for my dressings) and shake until combined.
2. Add oil, shake again, taste, and adjust for seasonings if necessary.