Salmon Rillettes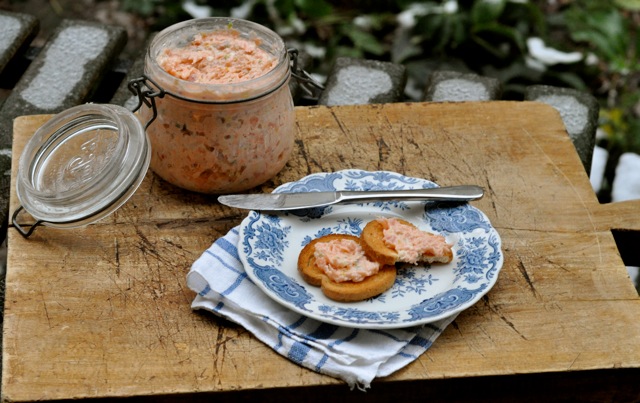 How do you totally impress X's family at their annual Christmas Eve holiday dinner, which begins around 7:30 with the pop of the first bottle of Champagne, and ends far past midnight, long after the foie gras, the poularde, heaps of vacherin, marrons glacés and mountains of tiny macarons have been eaten?
You bring Dorie Greenspan's salmon rillettes.
Around 1 a.m., as X and I bundled up to leave the other evening, wrapping ourselves in as many layers as we could to make the brisk walk to the car in the sub-zero temperature, X's sister and mother were still telling me how much they loved the salmon rillettes. But I already knew this. I watched as the entire jar (photographed above) disappeared as we opened presents.
I really can't take the credit. It's Dorie's recipe; not mine.
As most of y'all know by now, I'm less of a Dorie fan than a full-fledged Dorie groupie. When I'm stuck, and have baked my way into a corner — and by that, I mean, I've created some sort of disaster — I turn to Dorie. First, I pull out one of the many Dorie cookbooks on my shelves and try to figure out what I've done wrong; and if I can't find the answer, I simply ask her. I send her an email, and she zips a cheery note right back, as if she doesn't have fifty dozen other things on her "to do" list that day.
I interviewed Dorie a few months ago for a story in the Fort Worth Star-Telegram about her newest cookbook, "Around My French Table" (which is where I found this recipe), and we spent an afternoon together laughing and giggling as we chopped up veggies for the couscous that she was serving for dinner that night. At the end of the day, I felt like I'd made a friend — and I think that everyone that meets Dorie feels that way, too.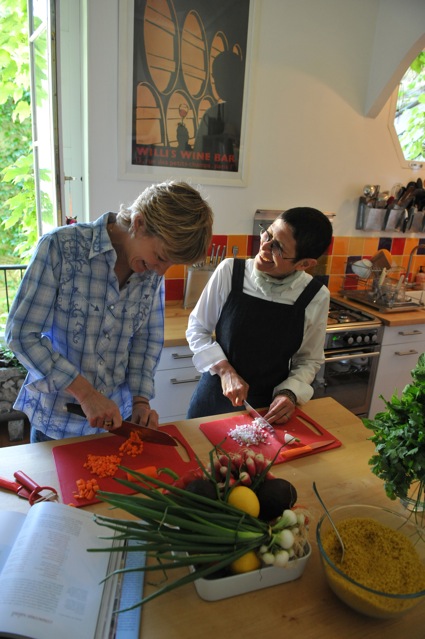 It's why, I think, her books are best-sellers — this book made The New York Times best-seller list within weeks of its release, and was listed on every major "Best Cookbooks of 2010 list," too. Not only are her recipes flawless — I don't know of any other cookbook author that I'd trust to make a recipe for the first time to take to a Christmas dinner — they're written in an easy, conversational tone; with language that's instructional, yet never pedantic. Simply put, I trust her recipes.
In the notes for her salmon rillettes recipe, Dorie suggests making more than you think that you'll need, so I did.
My only regret was making a double-batch, and not a triple.
Next time.
Salmon Rillettes
Adapted from Dorie Greenspan's "Around My French Table"
Makes about 2 cups
1 lemon
1 small *red chile, seeds and membrane removed (See note at bottom; I used a jalapeno with seeds, and it wasn't too hot)
½ cup dry white wine or white vermouth (I used a Chardonnay)
½ cup water
1 bay leaf
5 white peppercorns (I used black because I didn't have white)
5 coriander seeds
2 spring onions, finely chopped, green tops reserved, or one shallot, finely chopped, rinsed and patted dry
sea salt
½ pound (8 oz.) salmon filet, cut into 1/2-inch cubes
4-6 ounces smoked salmon, cut into 1/4-inch dice
freshly ground white pepper (I omitted this)
3 tablespoons unsalted butter, at room temperature
about ¼ teaspoon pink peppercorns, crushed with the back of your knife
toasted bread or crackers, for serving
1. With a vegetable peeler, cut a strip of lemon zest and put it in a medium saucepan. Finely grate the rest of the zest into a small bowl and set aside with the lemon. You'll use these later.
2. Cut a thin strip of the chile, and toss it into the saucepan with the lemon zest. Mince the rest of the chile, and put it in a small bowl, too, and set aside.
3. Pour the wine or vermouth and the water into the saucepan with the strips of zest and chile, and add the bay leaf, peppercorns, coriander, onion tops, and 1/2 teaspoon salt and bring to a boil over medium heat. When it boils, lower the heat, cover and let simmer for 5 minutes.
4. Now drop the cubes of salmon filet into the pan, cover and poach for 1 minute. Pour everything into a strainer, drain, and transfer only the salmon cubes to a medium bowl — you can discard the herbs, spices and vegetables.
5. Use the back of a fork to gently mash the poached salmon cubes. Add the smoked salmon, grated lemon zest, chile (you may want to add a small amount, then taste and add more), and chopped onions or shallot, and give it a stir. Taste and add salt and pepper.
6.Add the butter and mix until well incorporated.
7. Squeeze about half of the lemon juice into the bowl and taste. Here, taste and add more lemon, salt and pepper (again, I omitted the white pepper and simply added a bit more finely chopped jalepeno). Stir in the pink peppercorns and taste again (I added just a teensy bit more of these, too).
8. Tightly pack into a glass jar (or you may use a bowl), press a piece of plastic wrap against the surface, and chill for at least 2 hours.
Serve with tiny toasts or crackers, and lots and lots of Champagne.
*A word about chiles: A red Thai chile is at least 20 times hotter than a jalapeno, so I'd advise using this without seeds, and sparingly. When I made this, I added the finely chopped jalapeno little by little until I found the right amount of heat — you don't want too much, either. The idea is to have just a tiny bit of heat — it's not Tex-Mex, y'all.