Santa Fe Summer Salad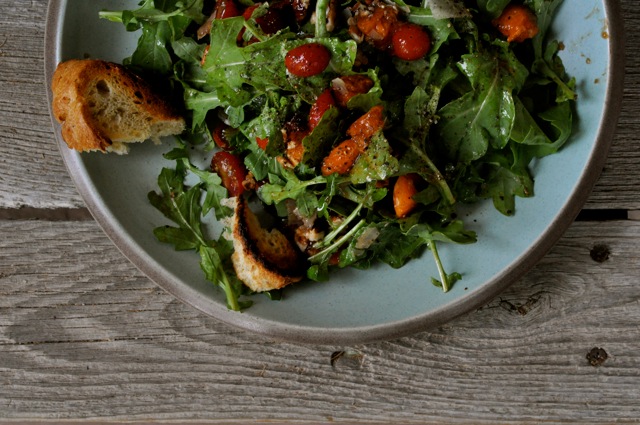 Two things that I've been whining about missing in Paris this summer are apricots and cherries…guess what's growing in the front yard of my little Santa Fe casita?
When I left last Thursday to zip back to Dallas, I noticed that one of the two (!) apricot trees was starting to bear fruit, and I picked a few and put them in a bowl to ripen while I was away, which they did. When I pulled in to the gravel driveway just three days later, the other, bigger apricot tree was filled with sweet yellow apricots…and the ground was, too. It's apricot city around here.
As much as I wanted to make an apricot tart on my first day back, the altitude along with purpley skies and rain kept me feeling too groggy to do much of anything…other than make a simple salad out of what I had on hand, along with some arugula and green chile cheese bread that I'd snagged at the Trader Joe's, post-coffee earlier in the day, while I still had a bit of vim.
I brought the tiny tomatoes with me, and had the apricots and Parmesan in the fridge. I did not even make a vinaigrette, because the thought of peeling a shallot was too daunting. That's how tired I was.
The salad was lovely and bright and perfect…and just what I needed to end a much-needed rainy and somewhat lazy day. We're smack dab in the middle of the monsoon season here in Santa Fe and the rain keeps coming and the apricots keep falling down, so I plan to make that tart today. For reals.
Santa Fe Summer Salad
Makes 2 servings
4 small apricots, halved, seed removed, and chopped
6 to 8 cherry tomatoes, halved
a handful of pecans, toasted, and roughly chopped
a big handful of arugula
balsamic vinegar
olive oil
sea salt and pepper
green chile cheese bread, toasted (if you're lucky)
Put your apricots, tomatoes, pecans, and arugula into a big salad bowl. Splash with a bit of balsamic vinegar and olive oil, then sea salt and pepper, and toss. Taste. Serve. Enjoy.