Shredded Beets and Carrots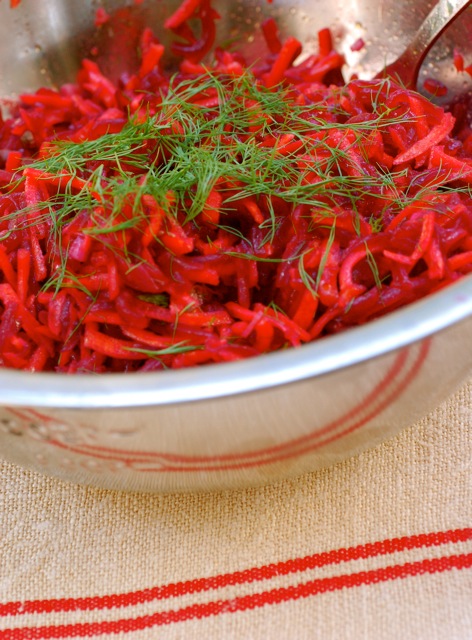 My beet obsession continues. I'm definitely eating more red these days than green.
I've been playing around a lot with textures — shredding what I'd usually slice, and slicing very thin veggies and fruits that I often just cut up in chunks. Just changing the shape of something can completely change how you perceive it. (My seven-year-old niece, for instance, will only eat chicken noodle soup with Sponge Bob-shaped noodles.)
I've seen shredded beets in the grocery stores here — sitting right next to the shredded carrots, in fact — and I've often wondered how it would taste to mix them up together.
I was hoping that for a bright bowl of orange and red, but alas, the beet juice had other ideas. Since the beets and carrots are both sweet, I added capers for a bit of salty, some dill, and when I served this (to myself — since X won't eat beets), I added a few crumbles of Roquefort, and when I ran out of that, I substituted with feta. Pour on a bit of E-Z Dijon Vinaigrette, and you've got a very rouge, crunchy, salty-sweet light lunch.
Shredded Beets and Carrots
4 cups shredded cooked beets
4 cups shredded raw carrots
1 tablespoon roughly chopped capers
1 tablespoon dill
¼ teaspoon sea salt
pinch or two black pepper
E-Z Dijon vinaigrette, recipe follows
In a medium bowl, toss the shredded beets, carrots, capers, salt and pepper. Drizzle about 3 tablespoons or so of the dressing on this mixture, toss, taste for seasonings, and let rest for an hour or two before serving. You'll probably want to add more dressing — I keep the rest in the fridge, and add a a bit more, if needed, as I eat this over the next day or two.
E-Z Dijon Vinaigrette
⅓ cup sherry vinegar
1 teaspoon Dijon mustard (I often use a coarse grain mustard)
1 teaspoon shallots, minced
1 teaspoon fresh herbs, such as thyme, basil, parsley, chopped (optional)
salt
pepper
⅔ cup olive oil
Put everything but the olive oil in a jar (I always use old jam jars for my dressings) and shake until combined. Add oil, shake again, taste, and adjust for seasonings if necessary.