Skillet-Roasted Yellow Squash Hash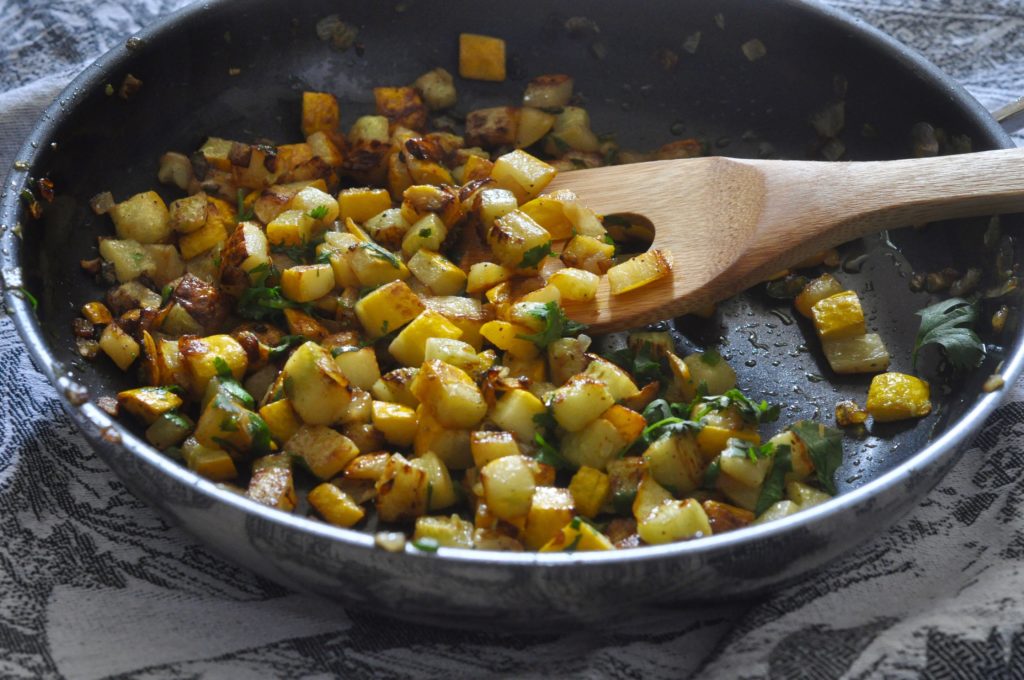 Finding yellow squash in Paris is possible, but it's not plentiful. Nothing wrong with the prolific green courgette, but I do love sweet, summery yellow squash. Reminds me of Texas, every single time I taste it.
Right now, I'm lucky enough to be in Santa Fe, and squash, both green and yellow, is one of the cornerstones of the cuisine, and you can find it everywhere, grown locally. So I've not been holding back. I bought one last week and roasted it in the skillet, and this time, I decided to punch it up with some spices — not too much, though, because I want the squash-ness to shine through.
Think of this dish as a foundation for other things. On its own, it works as a great side for whatever you might be grilling, or you can put a couple of poached eggs on top and call it breakfast. Add roasted corn. Cherry tomatoes. Swap out the cilantro for basil if you'd prefer. Use it in an Asian bowl, or add to Thai Fried Rice. It would work on top of a pizza or flatbread, or make a great taco. But I don't have to tell you that, do I?
Skillet-Roasted Yellow Squash Hash
Makes 4 servings
2 tablespoons olive oil
½ cup diced white onion
salt and pepper to taste
2 to 3 medium yellow squash, diced
2 tablespoons finely diced jalapeño
a small handful cilantro, chopped
Put the olive oil in a medium skillet over medium-high heat. Add the onion, salt and pepper to taste, and cook until the onions begin to brown, about 10 minutes. Add the squash. Cook for another 15 minutes or so, flipping the squash in the skillet until it's browned on all sides. Add the chopped jalapeño and the cilantro and toss. Eat.