Slow-Cooker Pork Carnitas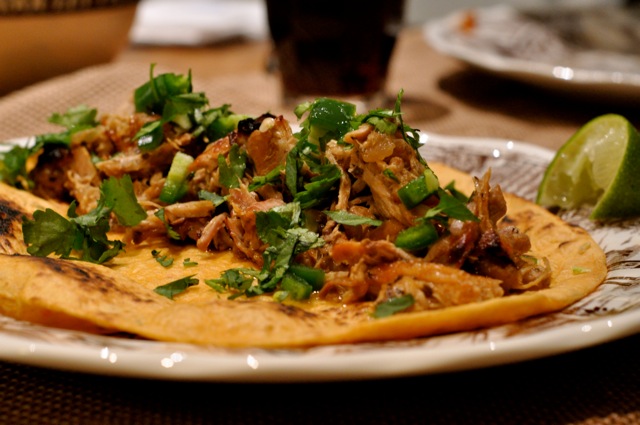 The other night, I happily ate carnitas with fresh, chopped jalapeno peppers – which I'll get to in a minute – and for the first time in months, I experienced that familiar jalapeno-high. A burn that was as flat as it was wide, and once it came, it stayed for a while. Even my lips were burning.
Hey mouth, welcome home.
How did I get jalapenos in Paris? Well, these jalapenos, still in their cheery plastic bag from Central Market in Dallas, were a gift from my sweet friends David and Bobbie, whom I met earlier this year when David signed up for one of my cooking classes. When I found out that he and Bobbie (who is of course, from Fort Worth – isn't Bobbie a great Texas girl name?) were from my same neighborhood in Dallas, Lakewood, and even more serendipitous, lived part-time in Paris in the very same arrondisement, we struck up an immediate and easy friendship. They invited us over for chili one night, and we had them over for dinner, too. When he returned to Texas, David would email me about new recipes that he'd found, and how the ones that he tried off of my website turned out.
The jalapenos were a Christmas surprise for me.
But there was more. Red chile tortillas from Central Market. Handmade corn tortillas. Fritos. TAMALES!
I was so happy I thought I was gonna cry.
Being away from home, especially during the holidays, can be hard, but it's a whole lot easier when you've got friends with big suitcases, and even bigger hearts.
On their last trip, David and Bobbie packed up the apartment for good. Bobbie's next post is in Shanghai, and soon, they be traveling back and forth from Dallas to China, just like they did to France. There's been a mass exodus of my friends this year – one moved to a diplomatic post in Africa; another, back home to Los Angeles; one to Lima, Peru; and another still, to Beijing.
It seems like this year has been one long goodbye.
Yes, it's easier to stay in touch with email and Skype, but nothing beats sitting around a table with good friends, laughing and eating and drinking too much Champagne (OK, that's me).  As much as I've hated to see all of my friends leave Paris, I now know that I've got more tables around the world where I can feel right at home.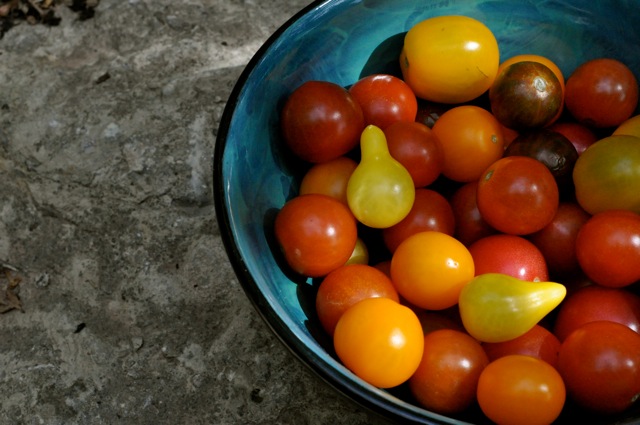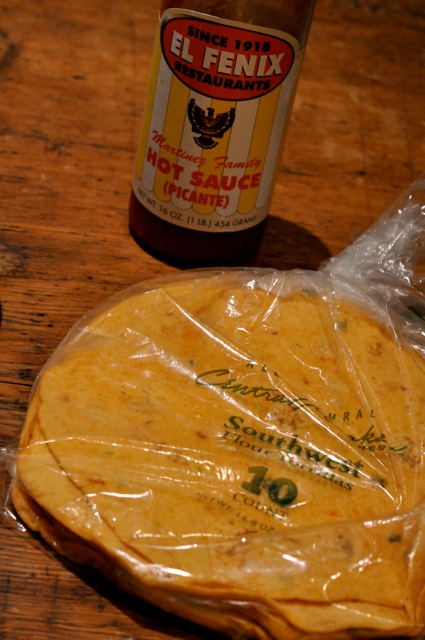 Slow-Cooker Pork Carnitas
Makes enough for 10 to 12 tacos
2 tablespoons olive oil
1 medium white onion, chopped into big pieces
2 pounds pork shoulder
4 cloves garlic, peeled and left whole
1 stick cinnamon
1 teaspoon cumin
½ teaspoon Mexican oregano
1 teaspoon Spanish paprika* (if you can't find this, you may want to use chipotle powder, but a bit less)
sea salt
black pepper
1. In a large skillet, put the 2 tablespoons of olive oil, the chopped onion and turn the heat on medium. Let cook until the onions begin to become translucent, about 5-10 minutes. Then, add the pork and sear on all sides. Remove the pork and onions and put into the slow cooker.
2. Add the rest of the ingredients, including a generous (around 2 tablespoons) bit of salt. Stir everything together, and add enough water to cover the pork two-thirds. Cook on low for 5-6 hours. Let cool, and refrigerate until ready to eat.
3. When ready to eat carnitas: first, preheat oven to broil, and the top rack to the middle of the oven. Put the pieces of shredded pork and and some of the juices in a baking dish, and cook for 15-20 minutes, or until the pork gets crispy.
Serve with warm tortillas, chopped jalapenos, lime, cilantro, and pico de gallo.
*I use Santo Domingo/agridulce. You may order this online here.