Spinach and Beet Tart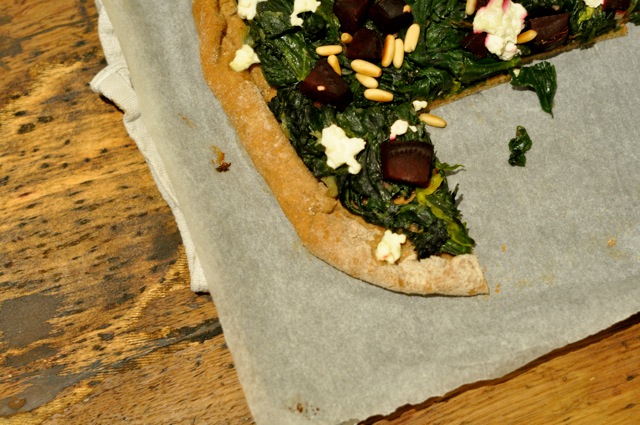 It's been such a crazy couple of months. Between getting the book finished, edited, and photos shot, I've been having a hard time getting back into a cooking groove. Or any groove at all. I've now postponed my trip home to Texas three times. I twisted my right ankle, then the left…in one week. This morning, I couldn't get my coffee right. My whole life feels a bit off.
I spent the weekend baking cookies and in the midst of a sugar-induced high, I realized I had to do something…for myself. So I went to President Wilson Market on Saturday, found some beautiful spinach at one stand, picked up fresh goat cheese from my friend Sandy, came home and made this.
It's an easy fall tart. I didn't even use a tart pan as you can see…I just rolled it out free-form into sort of a rectangular shape, prebaked it, then layered the spinach, beets, and goat cheese on top and baked it for 30 minutes more.
The spinach prep takes a bit of time, but I think the washing and rinsing and removing of stems is rather like bean-shelling in that it can be a rather meditative, calming thing. Once I finished processing the spinach, I was so relaxed that I continued on with a bunch of Swiss chard, which I've now got in the fridge, washed, cooked, and ready to go.
I also made a balsamic reduction sauce to drizzle on top of the tart, which sounds fancy but it's not (you just boil up the vinegar until it reduces by half and becomes syrupy), and turns out to be the perfect thing to contrast the tart's earthiness.
It was just lovely, and I ended up eating far more than I'd planned. So while it will easily serve six, as I've noted below, it'll also feed one very hungry me for dinner, with leftovers for the next day.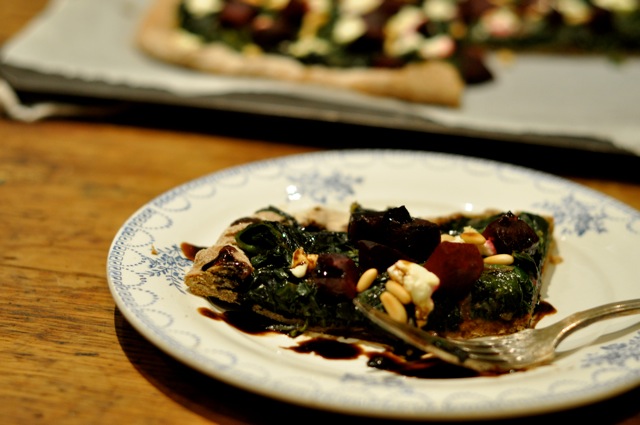 Spinach and Beet Tart
Makes 6 servings
olive oil
1 small onion, diced
1 clove of garlic, minced
1 pounds/500 grams of fresh spinach, washed and stems removed (or you may use frozen)
a big pinch of garam masala
a pinch of cayenne pepper
sea salt and pepper
about ½ teaspoon of lemon zest (or more to taste)
1 roasted beet, chopped (to save time, I bought the pre-roasted beets)
about 2 ounces of fresh goat cheese
a small handful of pine nuts, toasted
1 wheat-oatmeal tart crust, prebaked (recipe here)
1 cup of balsamic vinegar
1. Drizzle a bit of olive oil into your largest, deepest skillet, add the onion and garlic, and turn to the heat to medium-low. Cook until the onions soften and you can smell the garlic, which shouldn't take more than 5 minutes, tops. Toss in your spinach (you may need to add more as the first bunch wilts, as I often do), mix together, and cover to help wilt the spinach. When all of the spinach is in the skillet, add your garam masala, cayenne pepper, salt and pepper, and lemon zest. Taste for seasonings and then dump all of this into a colander to drain. Let this cool completely.
2. Preheat your oven to 400°F/200°C. When the oven's ready, just spread your spinach evenly on your prebaked crust, add the beets and goat cheese, and pop into the oven for 30 minutes.
3. While the tart's warming through, make your balsamic reduction sauce by warming up the balsamic vinegar in a small saucepan and cooking it on low heat for about 15 minutes, or until it reduces by half and has the consistency of maple syrup.
4. When your tart's done, pull it from the oven, sprinkle pine nuts all over, slice and serve with a spoonful of balsamic vinegar sauce on top.
Double-Duty: Balsamic reduction sauce is great on all sorts of things. I've put it on beef, lamb, salmon and other veggies, too (green beans, roasted pumpkin, carrots, etc.).