Spinach and Chèvre Tart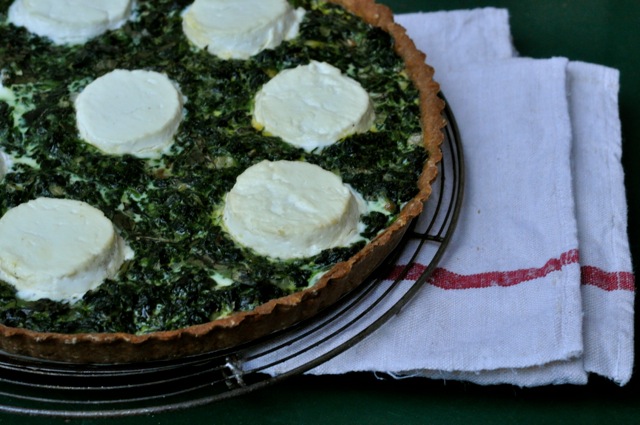 Nearly two weeks of jamón Ibérico everywhere I could find it, triangles of Manchego, and…did somebody say octopus salad?…sign me up! had taken its toll. When I landed in Paris a few days ago, all I could think of was veggie anything, and I felt like I needed spinach right away.
Fight to the finish? Popeye? I wasn't sure, but spinach was what I was in the mood for.
Enter the spinach tart. This one, an ever-so slightly different version of the one that's in my book, with basil instead of sage and thick rounds of fresh chèvre, which don't mind being spread all around the top of your tart slice. (Um, thank you Picard, for the inspiration — a recent spur-o-moment purchase of puff pastry w/ spinach et goat cheese was better than one would've ever expected.)
Ever so slightly basily, this seemed like the perfect bridge between summer, which is now long gone in Paris with highs in the 60s, and fall, which officially just began. I know it's too early to get into the big, heavy braised things that I so love to make when it gets really cold, but I feel like there's soup in my near future…and it just may be green.
Spinach and Chèvre Tart
Makes one 11-inch/28 cm tart
2 tablespoons of olive oil
1 tablespoon of minced shallot
a big pinch of fresh nutmeg
16 ounces/450 grams of chopped frozen spinach
a pinch of cayenne
sea salt and pepper
3 eggs
½ cup/11 cl of milk
5 large basil leaves, finely chopped
7 ounces/200 grams of fresh chèvre, cut into 7 slices
1 whole wheat tart shell, blind baked and cooled (from Cowgirl Chef: Texas Cooking with a French Accent)
1. Preheat your oven to 400°F/200°C.
2. Put the 2 tablespoons of olive oil into your skillet, add the shallots, and turn the heat to medium-low. Let this cook just a few minutes, until the shallots become translucent.
3. Squeeze as much water out of the chopped spinach as you can (I use a potato ricer for this) and add this to the skillet. Add your nutmeg, cayenne, a pinch of salt and pepper and give it all a stir. Cook until it's warmed through, about 5 minutes; then pour the spinach mixture into a bowl to let it cool.
4. Whisk your eggs with the milk, and add a pinch of sea salt and pepper. Evenly spread the spinach all over the bottom of the tart shell, and sprinkle the chopped basil on top. Pour the egg mixture over this, add the goat cheese rounds, and bake for 30 minutes or until the tart is set. Serve warm.
Cowgirl Tip: Leftovers? Just cut into pieces, wrap in foil, and pop into the freezer. To reheat, preheat oven to 400°F/200°C, unwrap the top of the foil so heat can get to the tart pieces, and place directly on the rack in the oven. Should take 35-45 minutes.