Spinach-Potato Tacos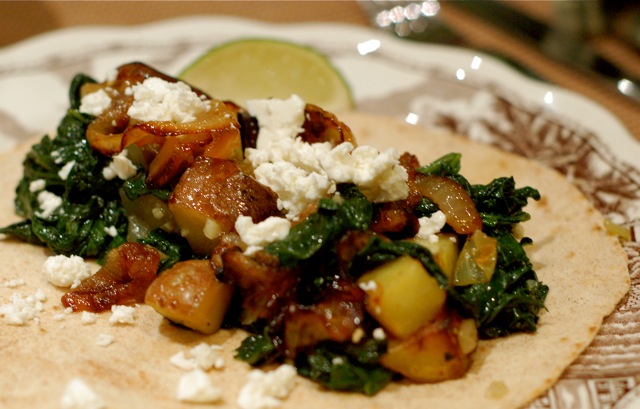 It was a cold and rainy day – BIG surprise for Paris in November, right? — and I wanted to make something warm and spicy, too. X put in a special request for spinach (can you believe?), so I figured I'd do something fun  — and since I'd already spent most of the day in the kitchen, making a cake here, a batch of ice cream there, I wanted easy, too.
Hmmm, I thought and thought. Tacos! Tacos with spinach…and what's that I see in the blue bowl about to go south, potatoes?
Get over here, red-skinned potatoes. Right this instant.
OK, then. Spinach and potatoes. With caramelized onions on top, and feta (since queso fresco's not available – this is a great substitute wherever you are, by the way). I think that caramelized onions are one of the easiest ways to dress up anything — they're great on top of soups, tacos, folded into an omelette, or on any sort of sandwich with grilled veggies or meats. Every time I make them, I think, these are so good, I have to do this more often – just chop up some onions, caramelize them, and stick them in the fridge. Then I forget that I told myself to do this. (Where are my Post-Its? How did I remember to do anything before them?)
Anyway. These little tacos are fabulous. And if you want, you may use Swiss chard instead of spinach, like Rick Bayless does in his book, "Mexican Everyday," or add mushrooms, which always love hanging out with spinach. I actually roasted my potatoes, cooked my spinach about halfway, and caramelized my onions in advance, so when it was time for dinner, all I needed to do was heat it all up, warm the tortillas, and spoon on the salsa.
My only regret was that I didn't make more. (Don't make this mistake, y'all. Double – heck, triple! – the recipe for even more taco fun.)
Spinach-Potato Tacos with Caramelized Onions
Makes 4 big tacos
1 pd. red potatoes, cut into 2-inch pieces
6 tablespoons olive oil, divided
sea salt
freshly cracked black pepper
1 clove garlic, minced
½ yellow onion, diced
Appx. 20 oz. fresh spinach, washed and stems removed
pinch nutmeg
¼ teaspoon lemon zest
2 large yellow onions, sliced
4 flour or corn tortillas
salsa, for serving
limes, for serving
crumbled feta, for serving
Preheat oven to 450 F.
1. Lay the potatoes out on a parchment-lined cookie sheet and drizzle 2 tablespoons of olive oil over them. Sprinkle a bit of sea salt and freshly cracked black pepper on top and just use your hands to mix it all up, so that all of the potatoes are evenly coated. Pop into the oven for 30-45 minutes, making sure to check them frequently and flip to the other side when the edges start to brown.
2. While the potatoes are roasting, in a medium skillet, drizzle 2 tablespoons of olive oil and the sliced onions, and turn the heat on medium-low to medium. Cook the onions slowly, for 30-40 minutes, until they're brown and caramelized.
3. Put the last 2 tablespoons of olive oil in a large skillet, and add the diced onion and garlic. Turn the heat on medium-high and cook until the onion begins to become translucent, about 5-10 minutes. Add the spinach, nutmeg and lemon zest and cook only until the spinach begins to wilt. Remove from heat and into a colander.
4. Assemble the tacos: layer a bit of spinach and potatoes across the middle of a tortilla, top with caramelized onions and feta. Serve with salsa and lime.