Spinach Tortillas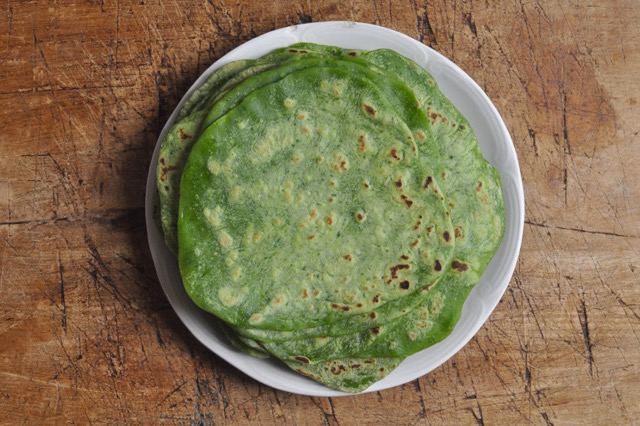 Because I'm crazy about spinach. Because I love tortillas. A mashup — because why the hell not?
Truth: I was going to make flour tortillas anyway, and realized I had about three handfuls of spinach left in the bag, and thought it might be fun to make them spinachy. I swapped out the spinach for part of the water in the recipe and this is what happened. I'm now imagining all sorts of other swap-outs. Green chile, other chiles, but those will have to wait until I'm on the other side of the pond.
I made spinach and mushroom quesadillas with these and put guac and salsa verde on top — really! I ate it so fast I didn't even take a photo. Not even an Instagram. Sometimes social media just gets in the way.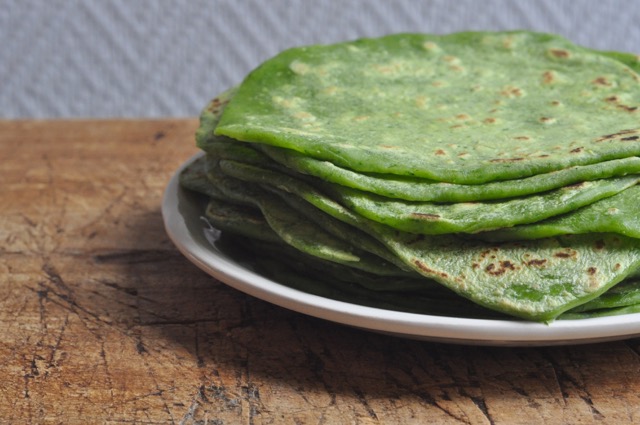 Spinach tortillas
Makes about 16 (4 to 5-inch) tortillas
2 cups (packed) raw baby spinach
2 ¾ cups white flour
¼ teaspoon salt
⅓ cup oil, such as canola or vegetable
Put your spinach in a baby food processor and let it go until it's finely chopped. To help the process, I usually add a tablespoon or two of water. When there are no more large spinach bits, pour the spinach into a liquid measuring cup and top off with warm water until you have 3/4 cup.
Put the flour and salt in a mixing bowl and blend together. Add the spinach and water, the oil, and mix well. Using your dough hook — or if you're old school, your hands — and knead the dough a few minutes until it's a soft, smooth — and very green — ball.
Divide the dough into 16 portions. Make a ball out of each piece dough, and roll it out as thin as possible for your tortilla. As you do this, keep a piece of plastic wrap on the other pieces of dough, removing them one at a time. The rolling out is easy because the dough is quite pliable. If you have a small rolling pin like I do, all the better. Don't worry about these being perfectly round — there's beauty in the imperfectness here.
Heat a nonstick skillet over medium heat while you're rolling out your first tortilla. When it's hot, place the tortilla in the skillet, then start rolling out your next one. About the time you've got your second tortilla ready to cook, the first one will be ready to flip over. Err on the side of undercooking. You don't want a crisp flour tortilla. When you see the first bits of light brown, make the flip. Then, almost right away, take it off the griddle. After you make one or two, you'll fall into an easy rhythm of rolling out/cooking and flipping over until you've finished them all. You can serve them right away by keeping them in a tortilla warmer or — no need to get all fancy — a plate from the second-hand store with a piece of foil on top, like I do. Once they're cooled, I like to keep them in a plastic bag in the fridge for easy access. I'd imagine these would also freeze quite well, but I never keep any around that long — if I've got tortillas in the fridge, it's usually tacos for dinner.