Stir-Fried Snow Peas and Tomatoes with Quinoa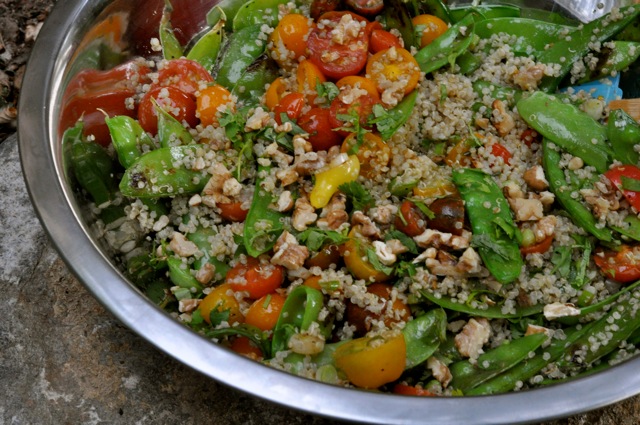 Last Saturday, as I was signing copies of my cookbook at the Collected Works Bookstore table at the Santa Fe Farmer's Market, nibbling on a hunk of strawberry-rhubarb focaccia from Intergalactic Bread Co., I couldn't help but notice the activity across the way. Skillets flipping. Something green sizzling then soaring, sailing, up up up, then down again. Over and over it went like this. People came and went, filling up their sensible, reusable shopping bags with handfuls of green — something —  then going on their way.
I didn't have on my glasses, so I couldn't tell what was going on over there, but as soon as I signed the last book, I made my way over to Matt Romero's vegetable stand, where he'd already sold out of broccoli and asparagus and they were selling — and stir-frying — fresh snow peas.
Seared in hot oil and sprinkled with just a bit of Kosher salt, the girl manning the skillet said, these snow peas struck just the right balance between crunchy and cooked…they were oh-so-slightly browned, making the sweet flavor a bit deeper and caramelized than what I'd tasted before.
So I bought a pound's worth of snow peas and took them to my little adobe on-loan casita, not sure what I'd do with them, except sear and soar as I'd seen that day.
(I'm ashamed to admit that until then, I'd eaten so many bad snow peas in so many mediocre Chinese restaurants that I'd pretty much given up on them. Plus I'd never tasted them this fresh, and prepared so perfectly.)
I'd already made some quinoa the day before and that's how this whole dish began. Just those two, snow peas and quinoa, then a box of heirloom cherry tomatoes from Trader Joe's (oh how I love Trader Joe's, my newest obsession!).
I let the snow peas and tomatoes cool a bit, then stirred them up with some of the quinoa, so the whole thing became more room temperature than either hot or cold. It'll work either way, but I'm a big fan of room temperature, especially in the summer, and most especially when it's hot, like it is right now in Santa Fe, but not Texas 100-plus degrees hot with 1000% humidity. This New Mexico heat, as all of you know, is dry heat, and as far as heat goes, it's the most bearable, reasonable kind.
Plus, the monsoon season just kicked off, and on a good day, we'll get a little rain and a lot of wind in the afternoon, bringing those 60-degree nighttime temperatures (requiring an extra quilt!)  in even sooner.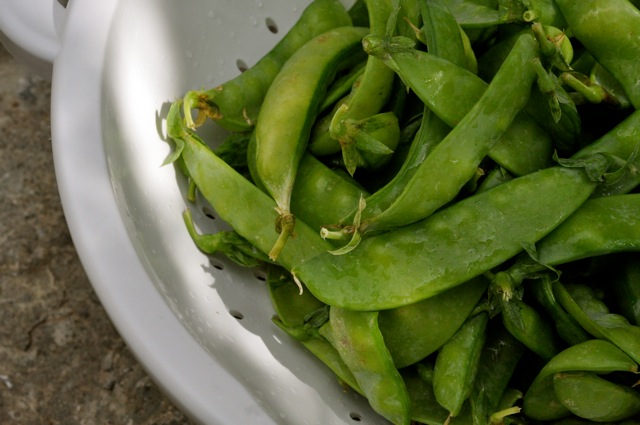 Stir-Fried Snow Peas and Tomatoes with Quinoa
Makes 4 dinner-size servings (or about 8 side servings)
1 cup of quinoa
grapeseed oil
a pinch of red pepper flakes
1 pound of snow peas, stems removed
sea salt and pepper
1 pound of heirloom cherry tomatoes, halved
3 green onions, chopped
1 clove of garlic
a small handful of cilantro, roughly chopped
a handful of walnuts, toasted then roughly chopped
Lime-Cilantro vinaigrette, recipe follows
lime wedges, for serving
1. Cook your quinoa: Put 2 cups of water onto boil in a small saucepan with a pinch of sea salt. When the water boils, add the quinoa, turn the heat down to a simmer, cover, and set your timer for 10 minutes. When it goes off, let the quinoa cool and fluff. Time saver: you can do this in advance and simply refrigerate till you're ready to make the rest.
2. Put a good drizzle of the grapeseed oil and a pinch of red pepper flakes in a wok or your largest skillet and turn the heat to medium-high. When it's nice and hot, add your snow peas, some salt and pepper, and cook till they're brown on both sides. Remove them and put them in a bowl to cool.
3. Next, cook your tomatoes. I like to just barely heat them, so they soften slightly — we're not going for mushy. Put about a tablespoon of grapeseed oil into your wok or skillet and turn the heat to medium-high. Add your tomatoes. Cook for just a couple of minutes and put them in a bowl to cool.
4. Finally, cook your green onions and garlic by adding just a little more grapeseed oil to the wok or skillet, turning the heat to medium-high again, and tossing them in. Stir around and when you can smell the garlic and onions, remove them from the heat.
5. To assemble the salad, mix the quinoa, snow peas, tomatoes, green onions, and garlic in a big bowl. Add the chopped cilantro and walnuts, a little Lime-Cilantro Vinaigrette, and toss. Serve with lime wedges if you like (and I do) for an extra shot of limey.
Cowgirl Tip: Snip the stems off of your snow peas with your kitchen scissors — it's faster and easier than doing it by hand.
Lime-Cilantro Vinaigrette
Makes about 3/4 cup
1 tablespoon of shallot, finely chopped
¼ cup/60 ml of sherry vinegar
1 tablespoon of lime juice (about 1/2 of 1 lime)
about ¼ teaspoon of lime zest
1 teaspoon of Dijon mustard
a small handful of fresh cilantro finely chopped
sea salt and pepper
½ cup/120 ml of grapeseed oil
Put your shallot, sherry vinegar, lime juice, lime zest, Dijon mustard, and cilantro into an old jam jar with a pinch of sea salt and pepper and give it a good shake. Let rest for 10 minutes; then add the grapeseed oil and shake again. Taste for seasonings.