Strawberry Pizza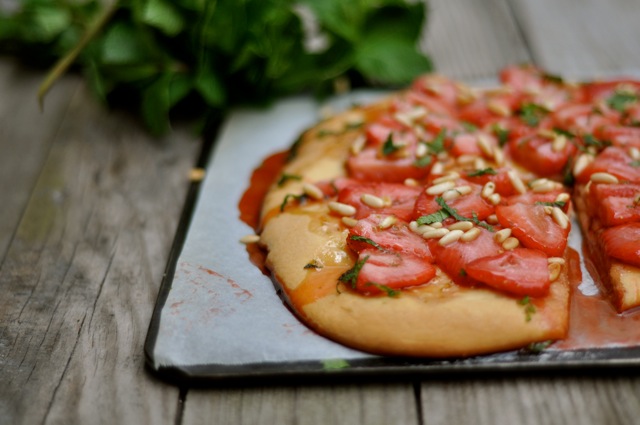 Just when I thought I'd done all that I could with strawberries – sweet things, like ice creams, soups, and granitas to savory salsas and salads – I saw la pizza aux fraises in one of my French food magazines this month.
Strawberry pizza?
Brrrriliant!
I knew I'd love this even before I started tinkering around with the French recipe, then finally putting it aside and defaulting to the sweet dough for my mom's cinnamon rolls. (Quick mini rant: French food magazines are notoriously lacking in the recipe-testing department. That said, I'm often inspired by a photo, as with this recipe, but I've learned that the nuts-and-bolts of these recipes are always wrong…which is really fine because I love figuring things out and piecing together recipes from here and there.)
This is really a very easy sweet yeasted dough — but don't let that scare you. You can put it together in less than 10 minutes; then it just needs to rest for a couple of hours before you move onto the pizza-making. Slice up some strawberries and you're nearly finished.
I contemplated all sorts of toppings here…a brulée, a layer of salty caramel, a Nutella something, or a chocolate sauce of some sort…any of which would work just fine. But in the end I decided to go for a simple melted sugar-limey thing, with a surprising (and oh so subtle) red chile kick in the pants.
Because sometimes we all need one.
Now, if I were you, I'd top this with a big ol' spoonful of crème fraiche on top of each slice, or a scoop of Bluebell nilla bean. Because I made this on a Sunday and I didn't want to walk to the neighborhood rip-off corner store and pay 3 euros for crème fraiche…or worse, go up the street to Haagen-Dazs, where the tiniest of cartons will set you back  7 something euros…I ate mine topless.
Which was just fine, too.
Strawberry Pizza
Makes enough dough for 3 pizzas/and one strawberry pizza
¾ cup plus 2 tablespoons/200 grams of butter, plus a bit more for buttering the bowl
½ cup/12 cl of whole milk
½ cup/100 grams of sugar
1 packet of yeast
3 eggs
5 cups/625 grams of flour
a pinch of sea salt
¼ cup of cassonade sugar
about ¼ teaspoon of lime zest
a pinch of red pepper flakes
1 pound/500 grams of strawberries, hulled and sliced in half
¼ cup of pine nuts, toasted
a few leaves of fresh mint
1. Butter a large bowl and set this aside.
2. Heat the milk, butter, and sugar over low heat, and when the butter melts, remove and let cool slightly. This mixture should be warm to the touch but not too hot. Pour this into your mixer bowl and sprinkle the yeast on top and give it a stir. Let this rest for 10 minutes.
3. Add the eggs and mix well.
4. Now add the flour and salt. If you have a dough hook, now's the time to put it on and knead the dough until it's no longer sticky to the touch; it'll take just a few minutes. Put your ball of dough in the buttered bowl, cover it with plastic wrap, and leave it in a warm place for 2 hours, or until it has doubled in size.
5. When you're ready to make your pizza, preheat the oven to 400°F/200°C. Tear off about 1/3 of the dough and roll it out to about 1/2-inch/1.27 cm thick. Prick the dough all over with a fork and slide it into the oven to bake for 15 minutes or until it begins to brown.
6. Arrange the strawberries all over the top of the baked dough and slide back into the oven for 5 to 10 minutes, or until the strawberries soften.
7. While the strawberries are warming through, melt the cassonade sugar, lime zest, and red pepper flakes in a small saucepan over low heat. When you pull the pizza from the oven, drizzle this all over, add the pine nuts and torn mint leaves and serve.