Strawberry Tiramisu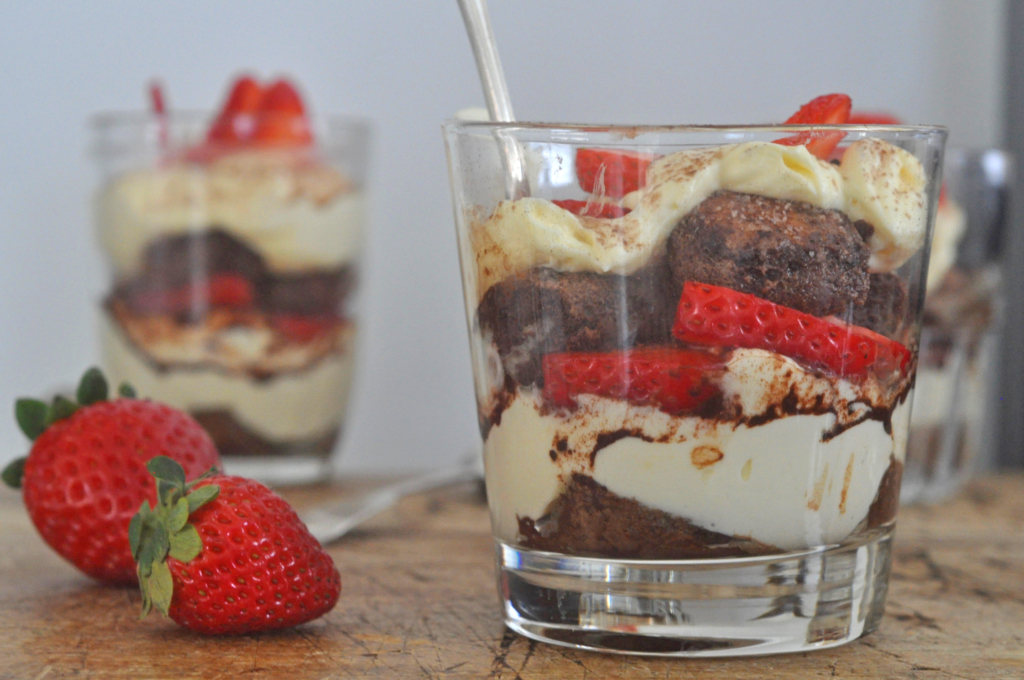 In the kitchen of his family's house in the hills not far from Florence, my boyfriend's mother showed me one evening how to make tiramisu, which I'd tasted for the first time the week before at a trattoria. I didn't speak a word of Italian at the time, but perhaps through some sort of magic language that all food lovers share, I got it – eggs, coffee, mascarpone, chocolate.
I returned to Texas and made tiramisu for everyone. I made it for friend's birthdays, in large Pyrex dishes. I made it for myself, just to remember that moment with his mother, who seemed so pleased that a Texan would love this simple Italian dessert so. I made it again and again so I wouldn't forget how to make it. But I when I stopped visiting Leonardo in Florence, I stopped making tiramisu, too.
Recently I wanted to make it again. As a nod to my years in France where so many things are sized down and presented individually, this new version of tiramisu is served in single glasses — in this case, a mishmash of ones I've picked up at flea markets here and there. I've dialed up the chocolate, because you can't have too much chocolate, ever. And I've added slices of fresh California strawberries because not only do they give the dessert an aesthetic pop of color, they lend a bright slightly acidic sweetness that the mascarpone cream needs in order to not feel quite so heavy.
It is not traditional to put strawberries in tiramisu but it ought to be. I think Leonardo's mother would approve.
Full disclosure: This is one of three paid recipes I'm developing for the California Strawberry Council. Recipes will appear here as well as on their site. 
Did you know?
Strawberries have more vitamin C than an orange. Eight strawberries has more than 140% of the recommended daily value of vitamin C. 
Eating strawberries is good for the whole body. Strawberries promote heart and brain health, are great for managing diabetes, and reducing the risk of some cancers. 
Strawberry Tiramisu
Makes 8 to 10 servings
2 tablespoons cocoa powder + more for dusting
1 cup brewed strong coffee
1 (7-ounce) package ladyfingers (24)
4 extra large eggs
½ cup sugar
pinch sea salt
2 (8-ounce) containers mascarpone
16 ounces California strawberries, hulled and thinly sliced
1. Whisk the cocoa powder and coffee together in a medium bowl. Set this aside.
2. Cut the ladyfingers into small pieces, about 1 1/2 inches long. Set these aside.
3. Put the eggs, sugar, and pinch of salt in the top of a double-boiler over simmering water. Stir constantly for 5 minutes or until it's slightly warm. Pour this into your mixer bowl with a whisk attachment.
4. Whip the egg mixture until it's very thick, about 5 minutes. Add the mascarpone (it's fine cold, directly from the fridge) in spoonfuls while the mixer is running. You may lose volume, so let the mixer go until the mixture thickens again, for another 5 minutes.
5. To assemble your tiramisus, dip the sliced ladyfingers one at time into the coffee/chocolate mixture, leaving them only for 1 or 2 seconds, then layer them in your serving glasses. (You don't have to be too precise with the layering that comes next; in fact, you want this to more like a parfait than a traditional molded tiramisu.) Add a heaping tablespoonful of mascarpone filling, smooth it out slightly, then dust with chocolate. Add a few sliced strawberries. Repeat with the ladyfingers, filling, and chocolate dusting and decorate with a few sliced strawberries. Refrigerate until ready to serve.
SaveSave
SaveSave
SaveSave
SaveSave
SaveSave
SaveSave
SaveSave
SaveSave
SaveSave
SaveSave
SaveSave
SaveSave
SaveSave