Stuffed Eggplant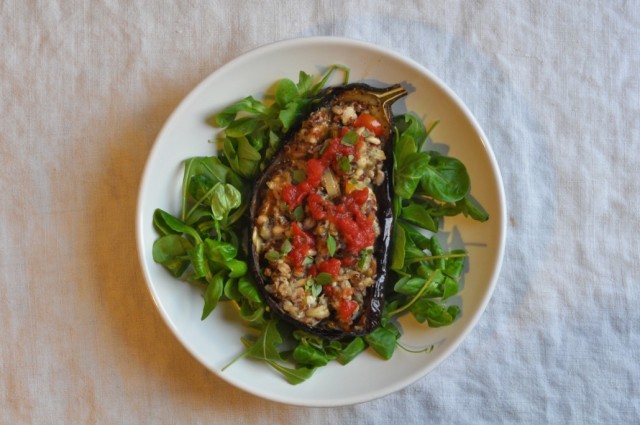 I've been on an eggplant kick lately, and even more so because people keep asking me what to do with it. In Paris, Dallas, everywhere I go, it seems. I don't know why eggplant comes up in conversations. But it does.
Unless you're talking about the cute miniature ones that you can sometimes find in the white and purple varieties, eggplant is a bit like the Birkenstock sandal of the vegetable aisle — it's even kind of shaped like one. It's good for you, but it's not pretty.
Not until you get to know them. Then you might look at the photo above and the one below, before I scooped out all of the flesh, just roasted, with olive oil and salt and pepper, a little bit differently.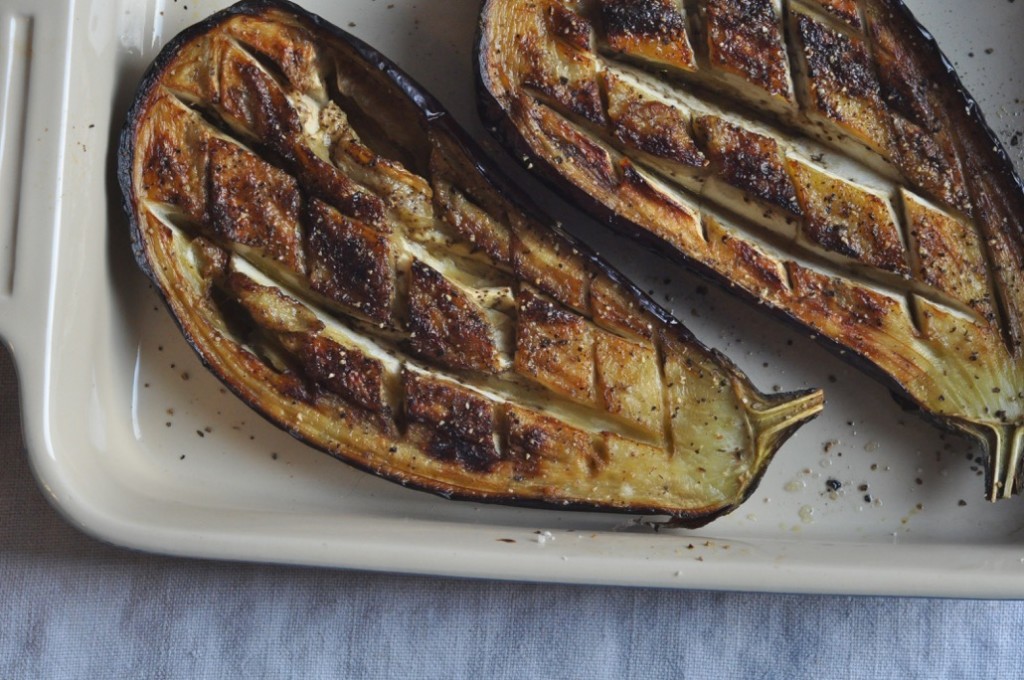 I saw a recipe for a stuffed eggplant in one of my French food magazines over the summer and the image stuck in my head, this gorgeous fat eggplant, flesh removed and mixed with other things, then put back in the oven to warm through. When I was in Spain on my yoga retreat, one night we had stuffed eggplant for dinner with melty bits of Manchego cheese throughout.
Coincidence?
That's what I thought, too.
So here you go, the latest of my eggplant musings. There will be more.
Stuffed Eggplant
Makes 2 servings
1 large eggplant
4 tablespoons tablespoons olive oil
sea salt and pepper to taste
2 cups cooked quinoa or farro, or a mixture of the two
4 cherry tomatoes, cut into quarters
4 basil leaves, roughly torn, plus more for serving
1 tablespoon toasted pine nuts
¼ cup grated Parmesan
½ cup homemade Neapolitan pizza sauce
2 handfuls mache, arugula or a comination of the two
Preheat the oven to 425°F.
Slice the eggplant in two, reserving the stem. Place the halves flesh-side up in a baking dish score them in a criss-cross pattern with your knife, making sure to not slice into the skin. Brush 2 tablespoons olive oil on each side and sprinkle with fresh pepper and sea salt. Bake for 30 to 45 minutes or until the eggplant is completely cooked and soft. Let the eggplant cool slightly.
Scoop out the eggplant's flesh and put it into a bowl along with the rest of the ingredients, except the tomato-basil sauce. Gently toss to combine and divide between the two halves
Bake for 15 minutes or until the eggplant is warmed through and the cheese is melty. Divide the mache/arugula between 2 plates. Warm the tomato sauce on the stove and when the eggplant are done, put each one of them on top of the mache/arugula mix, and spoon a little sauce on top. Eat.
Cowgirl Tip: When choosing eggplant, look for one that's firm to the touch, shiny like a just-waxed car, and without any dings. Eggplant is actually quite fragile, so handle it carefully when transporting it home. For the tastiest eggplant, be sure to eat it within a day or two.