Sunday Tuna Salad Remix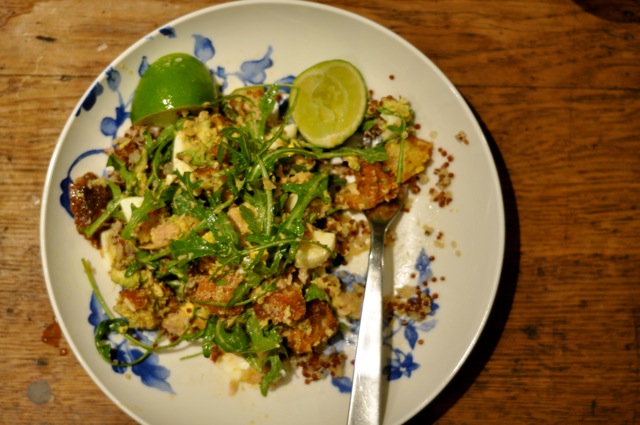 Sometimes messy is the best path. In the middle of messy, there are often surprises, treasures, inspirations. Like this salad. It looks like something I just threw together, which I sort of did. But not without first considering the parts that make up this whole.
I had a small can of tuna in olive oil in the cabinet, which is all you need to get a whole lot of mileage in the tuna category. Ripe avocados in the fridge. Croutons that I'd made from a stale baguette. I was almost there already, I figured. A few other elements — quinoa, arugula, hard boiled eggs — to make it a bit more filling, and healthy, too. And to pull it all together, a chipotle vinaigrette and a squeeze of lime to give this new take on my Sunday Tuna Salad a whole different vibe.
Just a word about the tuna in olive oil. Please use this, and you'll be glad you did. It is not cheap, but you don't need that much of it to make an impact. It'll put you off of the water-packed tuna forever.
This is usually the sort of thing that I eat in the warmer months, but we've had reprieve on the cold weather — heck, it was nearly 50 degrees on Friday! — and this seemed like the perfect light meal to have on a Saturday night. Besides, there was carrot cake for dessert.
Sunday Tuna Salad Remix
Makes 2 dinner-size or 4 first-course salads
1 6-ounce/160 gram can of tuna in olive oil
a big handful of arugula
1 avocado, chopped
about ⅔ of a baguette, torn into small pieces (about 4 cups)
1 clove of garlic, minced
olive oil
1 cup of quinoa
2 eggs
Chipotle vinaigrette, recipe follows
lime wedges, for serving
1. Preheat your oven to 450°F/230°C. Put the tuna, arugula, and avocado in a big serving bowl.
2. Tear the bread into 1-inch pieces (or thereabouts – you can slice them if you want them to be the same size, but I prefer the tear method, because it's easier), and toss on a parchment-lined cookie sheet, along with the garlic. Drizzle some olive oil on the croutons and garlic and toss it around with your hands to make sure all of the croutons are covered in oil and the garlic's evenly distributed. Bake for 15-20 minutes, keeping a close eye on them, until they're crispy all the way through.
3. Make your quinoa by putting two cups of salted water onto boil, and when it boils, add the 1 cup of quinoa. Turn of the heat, cover, and let rest for 15 minutes or until the quinoa absorbs all of the water. Fluff.
4.Put the two eggs in a saucepan, cover with cold water, add a pinch of salt, and bring to a boil. When the water boils, turn heat down to a simmer and set the timer for 10 minutes. When the buzzer goes off, put the saucepan in the sink, run cold water over it, and take out the eggs. Peel and roughly chop.
5. When ready to serve, add the croutons, quinoa, and chopped eggs to the large bowl. Drizzle a couple of tablespoons of the Chipotle Vinaigrette on top, toss, and taste for seasonings.
Advance Planning: You can make the croutons and boiled eggs ahead of time.
Chipotle Vinaigrette
Makes 3/4 cup
¼ cup/60ml of sherry vinegar
1 shallot, finely chopped
1 teaspoon of Dijon mustard
1 chipolte chile in adobo, finely chopped
sea salt and pepper
½ cup/120 ml grapeseed oil or another light oil
Put your sherry vinegar, minced shallot, mustard, a big pinch of salt and pepper and chipotle in a jam jar, and shake until combined. Let rest for about 10 minutes — this softens the intensity of the shallots' flavor and allows the salt to dissolve — then add the grapeseed oil. Taste for seasonings.