Sunday Tuna Salad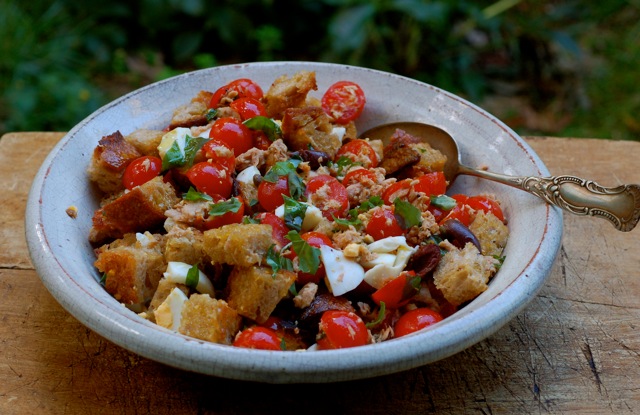 Cue the singing angels: the stinky stinky Franprix down the street is now open on Sunday. (Gosh, it's almost — dare I say it? — like America! A grocery store — albeit a small one and with rotting vegetables — open seven days a week!)
When this big announcement was made with much fanfare  awhile back, I knew that my life in Paris had taken a change for the better, and that I'd have one less thing to complain about — but remember y'all, "open on Sunday" doesn't mean open all day, or even anything close. It means open from 9 am until 1 pm, which, for some reason, I can't seem to remember.
So there I was on Sunday, dashing out of the apartment with my hemp Whole Foods/London bag slung over my shoulder, at 1:55, with a short list of items to buy for dinner. I arrived at the Franprix, out of breath, only to see the two surly cashiers on the other side of the locked-tight automatic doors, standing there, waiting — for me, perhaps? —  so they could have a good laugh.
Heh, heh, heh. Tant pis, les Americains! Hmmphf! Thees is not le 7-11! Heh, heh.
Deflated, my empty sack and I returned to the apartment, and ducked into the kitchen, without a clue about what to make for dinner.
But the little cherry tomatoes and the hunk of country bread that X had bought a couple of days before had other ideas. My dinner plan soon turned into eat-up-what's-about-to-go-bad.
Which is how I came up with what I'm calling "Sunday Tuna Salad," something that's so good, I'll make again and again, any night of the week.
This is also a bit summery (I told you I wasn't ready to say goodbye), and it's a riff on panzanella, the Tuscan stale bread salad that's made with bread, tomatoes, cukes, and onions, and a few other things — only this version isn't soggy; in fact, with crispy garlic and olive oil croutons, it's just the opposite.
The key here is using olive oil-packed tuna, which I really recommend. Yes, yes, I know, it's a bit more expensive, but it makes this quickie salad special. Other than that, a couple of hard-boiled eggs, Kalamata olives, capers, and some basil, and that's pretty much it.
I'm really, really happy that the Franprix was closed.
Sunday Tuna Salad
1 pint cherry tomatoes, halved (you can use more or less here, depending on what you've got on hand)
1 160 gram/6 oz can tuna packed in olive oil, drained
12 Kalamata olives, split in half and pits removed
2 tablespoons capers, drained
4 leaves fresh basil, roughly torn
4 thick slices country bread (or you may use any leftover stale bread)
1 clove garlic, minced
2 tablespoons olive oil
sea salt
freshly ground pepper
Basil-lime oil, recipe follows
2 large eggs
1. In a large bowl, put the halved tomatoes, tuna, capers, Kalamata olives, and 2 leaves of the torn basil.
2. Cut the bread into 1 to 2-inch chunks, depending on how you like your croutons (I like 'em big). Drizzle the 2 tablespoons of olive oil in a large, deep skillet, add the minced garlic, and turn the heat on medium-low. Let the oil and garlic warm just a bit and add the bread cubes. Watch these carefully as they cook and turn the croutons so all sides get a bit of the oil and garlic, and have the chance to get a bit crispy. When cooked, spread the croutons on a cookie sheet so they'll stay crisp as they cool.
3. Boil the eggs. Put the two eggs in a saucepan, cover with cold water, add a pinch of salt, and bring to a boil. When the water boils, turn heat down to a simmer and set the timer for 10 minutes. When the buzzer goes off, put the saucepan in the sink, run cold water over it, and take out the eggs. Peel and roughly chop.
4. When ready to serve, add the chopped eggs to the large bowl, and the cooled croutons, too. Drizzle 2 tablespoons of basil oil on top, and taste for salt and pepper.
Basil-Lime Oil
1 tablespoon basil, chopped
2 cloves garlic, minced
zest of one lime
⅓ cup olive oil
sea salt
pepper
Put first 4 ingredients in a jam jar, and shake. Salt and pepper to taste. Let sit for an hour, at least, before using. Will keep for a week or two in the fridge.