Sundried Tomato Pesto Palmiers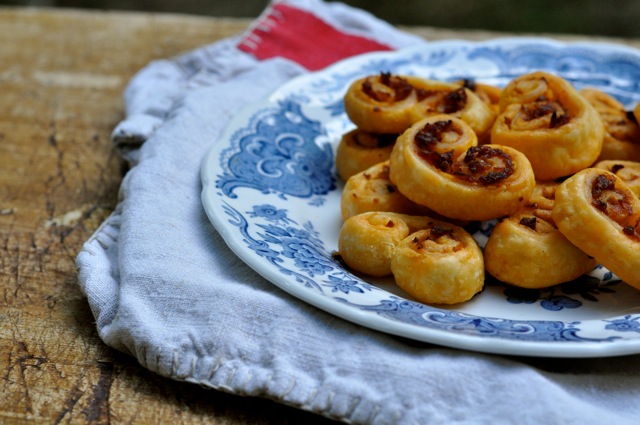 What better reason to jump back on board the Twitter #LetsLunch bus than with champagne?
Sadly, I missed our last gathering (pies), but when I saw that champagne nibbles were on the list for July, to celebrate our 2nd birthday (already?!), I had to join in.
Two years since our round-the-world BLTs, and Cheryl Tan upstaging us all with her lattice-bacon layer (a stroke of genius, by the way). Since then, our group has grown, and we're still lunching together. I love it.
Anyway, I'm delighted to share with y'all the easiest recipe in the world – and one that'll impress your friends. When they ask you what these are, you can casually say, "Oh, palmiers," like they're canned biscuits or something.
Which they practically are. The recipe's so easy, there's almost nothing to write down. I bought some (1) all-butter puff pastry (which you should be able to find in your freezer section in the U.S.), and smeared some (2)  sundried tomato pesto (also store bought – you may also use pesto or tapenade), and rolled it up to make these little bite-size French-inspired snacks. Before I cut them (because the dough was getting warm quickly), I put the rolls in the freezer for about 10 minutes, and then slicing was a snap.
A snap, I tell you. Fifteen minutes in a 400°F oven, and that's it.
Is that a champagne cork I just heard?
Here's what the rest of the gang made for the festive occasion. Bon anniversaire, everyone.
ShowFoodChef's Purple Peruvian Potato Chips
Caitlin Shetterly's Gruyere Lace Cookies
A Tiger in the Kitchen's Cheddar-Pecan Crisps
Zest Bakery's Bacon, Apple and Swiss Quiche
The Taste of Oregon's Salmon Tartare
Chez Us' Home-Cured Copper-River Salmon
Be A Wok Star's Grilled Hoisin Pork Shoulder (and more)
Dreaming of Pots and Pans' Salmon Bites
GeoKaren's Goat-Cheese Filled Parmesan Cups
Free Range Cookies' Cheese Straw Crackers
Monday Morning Book Club's Salmon Tartare
The Bubbly Girl's Parmesan Toasts
Hot Curries and Cold Beer's Samosa-Shingara Pies
The Kitchen Trials' Stuffed Figs, Not Parmesan Crackers and Spicy, Cheesy Pecans