Super-Quick Pecan Shortbread Cookies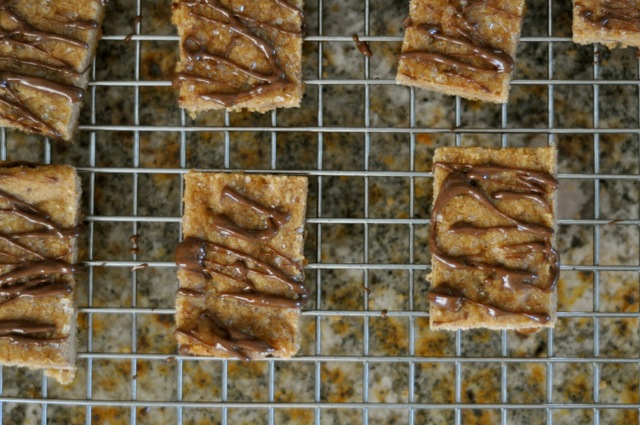 I had all of these ideas of baking a few weeks ago, but those plans were dashed when I caught yet another (!) awful cold thing that just about knocked me senseless.
Thank goodness for "Downton Abbey" on Netflix and my mom's beef and vegetable soup, both of which worked all sorts of magic and finally got me back on my feet, just in time for Christmas.
But not in time to do a whole lot of baking, which frankly, I was no longer in the mood for. But I wanted to make something, something that I'd not made before…and it needed to be quick. And easy.
I had already seen a recipe for the classic Mexican cookie, Polvorones, on the Saveur magazine website, and my mom's friend Connie had made something similar, so I was already thinking about pecans. And shortbread.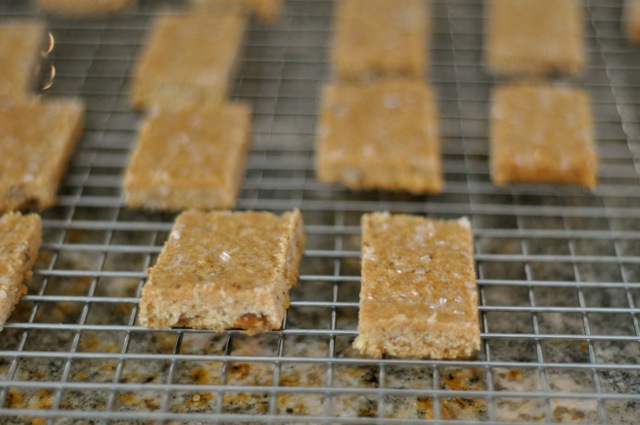 Then I found a recipe for pecan shortbread cookie bars on Martha Stewart's website, which I liked because there was no rolling, cutting, or chilling the dough involved. The recipe itself I ditched; I kept the idea of the bar cookie and the 8 X 8 pan. Instead I patched together this recipe from various sources, and came up with this, a pecan-centric shortbread cookie drizzled with a melted Hershey bar, which took less than a half-hour to make.
The perfect afternoon coffee cookie, for the holidays or anytime. Good to give, good to keep. Brown sugar, pecans, butter – what's not to like?!
Now I'm off to do a little shopping…before it's too late.
Ho ho ho and Bonnes Fêtes, everyone!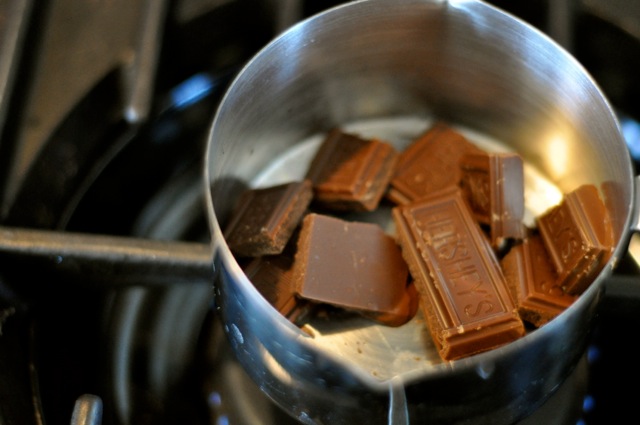 Super-Quick Pecan Shortbread Cookies
Makes 2 dozen
½ cup/55 grams of pecans, toasted and finely ground
1 cup/125 grams of flour
¼ teaspoon of sea salt
1 stick/½ cup/125 grams of butter, at room temperature
½ cup/110 grams of brown sugar
½ cup/55 grams of pecans, toasted and roughly chopped
2 ounces/60 grams of Hershey's chocolate
1. Preheat your oven to 350°F/175°C and line an 8 X 8-inch (20 X 20 cm) pan with foil.
2. Whisk together the pecans, sea salt, and flour and set aside.
3. In your mixer, beat the softened butter with the brown sugar until fluffy. Add the flour mixture and mix just until combined. Fold in your pecan pieces.
4. Press the dough with your hands into the pan, making sure to mash it all the way into the corners and evenly along the sides. Prick the dough all over with a fork and slide into the oven for 20 to 30 minutes, or until it's nice and brown. Let the shortbread cool for 5 minutes, then remove it from the pan and cut it into 24 cookies with a serrated knife. Let the cookies cool on a rack.
5. Melt the Hershey's chocolate over a double-boiler (or if you're super careful, over very low heat in a heavy small skillet, stirring constantly so it doesn't burn), and when it melts, drizzle it over the cooled cookies. Let them cool completely before eating.