Texas Tortilla Soup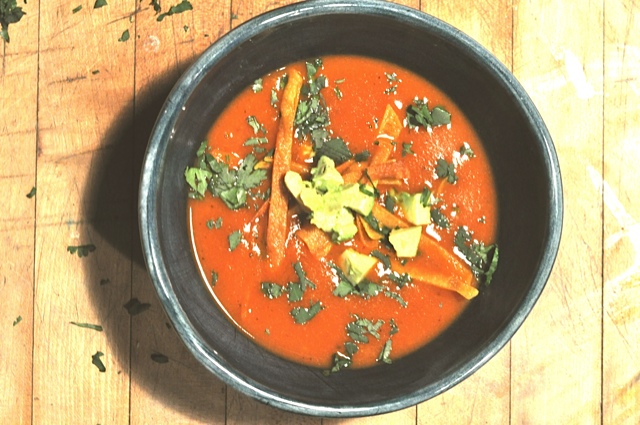 Right, you're probably thinking. Of course it's Texas Tortilla Soup. What else would it be? But in this case, it's called such because I made it while in Texas and yes, tortilla soup is most definitely a Texas thing, so there you are.
One should definitely wear cowgirl boots while making this soup. If you want to be authentic and all.
But what's an authentic tortilla soup, anyway? Anyone?
To some, it's a straight-up bowl of chicken broth, with chunks of celery and a few tomatoes and onions and there will likely be some tortilla strips and shredded chicken involved. There is usually lime on the side. Chunks of avocado, or even guacamole in the middle of it all. Shredded cheese on top of that, but this seems to be overkill if you ask me. We're not making nachos.
This is a tortilla soup sans poulet, but you may certainly add some at the end when you're serving this. I didn't have any chicken on hand and wasn't in the mood for it, and found that this soup holds up just fine as a vegetarian version.
I like a tomatoey tortilla soup, and have a great recipe in my book for one that's made with lots of toasted tortillas and roasted veggies, and it's a very thick, chipotle-spiked soup that's hearty and substantial on its own. The other day it was super-coldish in Texas (again) and I wanted a tortilla soup but something different than what I'd made before.
Which it was.
Brothy yet slightly tomatoey was what I had in mind. Something lighter in texture, with not too much heat, and with all of the usual fixins added at the end. I found a recipe on Simply Recipes for a tortilla soup made with broth and left with chunks of veggies floating about, which is where I was going with this, but as I made it, I ended up changing it up, adding this and that, and blending it all together. Old habits die hard. Plus it's prettier that way.
I really like this one. I say "serves four" but know it also can feed two very hungry people who love tortilla soup. It'll double easily.
As I write this, it's snowing outside – in Texas!–and I'm planning on staying in and making this again. Sometimes nothing but tortilla soup will do.
Texas Tortilla Soup
Makes 4 servings
            1 poblano pepper
            8 corn tortillas
            ½ cup of canola or peanut oil
            ½ of a chopped onion (about 1/2 cup)
            2 cloves of garlic, minced
            4 cups of chicken or vegetable stock
            1 (14.5-ounce) can of fire-roasted tomatoes
             ½ teaspoon of cumin
             sea salt and cracked pepper     
            1 avocado, chopped
            a small handful of fresh cilantro, chopped
            lime wedges, for serving
1. Make a few slits in the poblano pepper with your knife and place directly on your gas flame to roast the skin. Using your tongs, keep turning the pepper until it blackens and blisters all around, then place in a bowl and cover with plastic wrap to cool. (You may also put the pepper in a sealed plastic bag to cool.) When the pepper is cool, scrape the skin and seeds off and roughly chop. You should have about 1/3 cup.
2. Cut six tortillas in 1/4-inch strips. Heat the oil in a soup pot over medium-high heat. When the oil's hot, add half of the tortillas and fry until crispy. Put them on a paper towel to drain. Fry the other tortilla strips. Set aside.
3. Pour off all but a couple of tablespoons of oil, let the pan cool off a little bit, and add the chopped onion and garlic. Cook this over medium heat for a few minutes, or until the onions just begin to become slightly translucent. Add the other two tortillas, chopped poblano, chicken stock, 4 cups of water, cumin, and a big pinch of salt and and cracked pepper. When this comes to a boil, reduce the heat and let cook for an hour.
4. Carefully blend the soup in your blender and serve right away with the tortilla strips, avocado, and cilantro. Lime on the side.