The Best GF Chocolate Chip Cookies Ever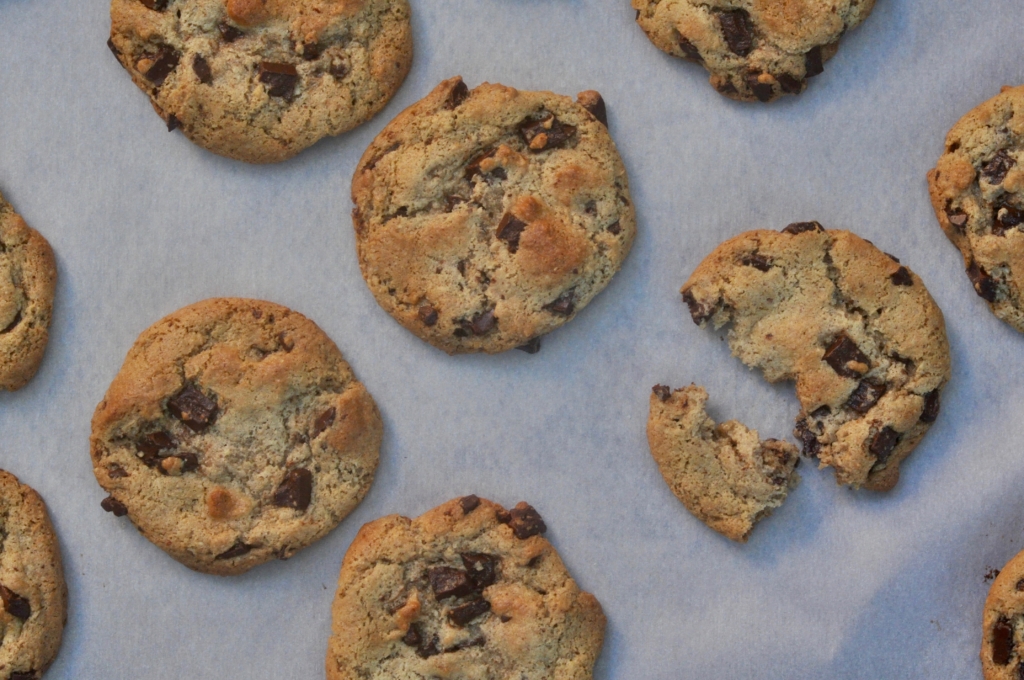 I have been in the baking mood lately, but having one fail after another. A cake turns out dry. So you adjust, add more eggs — and lots of butter — and it's no longer dry, but tasteless. This has been my story the last two weeks, so I decided to try something different — and familiar — via a new take on the chocolate chip cookie.
I love the idea of using almond flour in baking — or any nut flour, for that matter — because it doesn't seem that odd to me. There are lots of French and Spanish recipes that call exclusively for nut flours, and I love the taste and the texture they lend, plus I somehow feel more virtuous for eating nuts.
I found this recipe on Pinterest and made just a few tweaks, slightly reducing the amount of sugar, adding oat bran where she had used coconut flour, along with some minor adjustments in the measurements.
I did not have high hopes, given my recent baking disasters.
Yet with this one recipe, my luck had turned. Crisp on the edges and chewy in the middle, just as a chocolate chip cookie should be, these had the texture I was craving, and struck the right cookie to chocolate ratio. I stood in the kitchen, eating one right after another, right off the pan, still warm, until I could eat no more. Research, I told myself, then grabbed another.
The Best GF Chocolate Chip Cookies Ever
Makes 20 (3-inch) cookies
Adapted from the website Texanerin.com
1 cup almond flour
¼ cup oat bran
1 teaspoon baking soda
¼ teaspoon salt
⅓ cup coconut oil (refrigerated and firm)*
⅓ cup almond butter, freshly ground
½ cup brown sugar
1 teaspoon vanilla
1 extra-large egg
1 cup semi-sweet chocolate chunks
Toss the almond flour, oat bran, baking soda and salt together in a small bowl.
In a mixer bowl, blend the coconut oil, almond butter, brown sugar, vanilla and egg. Add the flour mixture and mix again, just until it's incorporated. Stir in the chocolate chunks. Refrigerate for a half-hour, at least, or until the dough's firm.
Preheat your oven to 350°F and line a baking sheet with parchment.
Scoop out tablespoonfuls of dough, roll them into balls, and place them 2-inches apart on the baking sheet. Bake for 10 minutes or until browned on the edges. Eat and repeat as often as necessary.
*I use coconut oil that's not virgin, because I don't like the Hawaiian Tropic flavor. If this doesn't bother you, go for it, but your cookies will likely be coconutty.