Tiger Cakes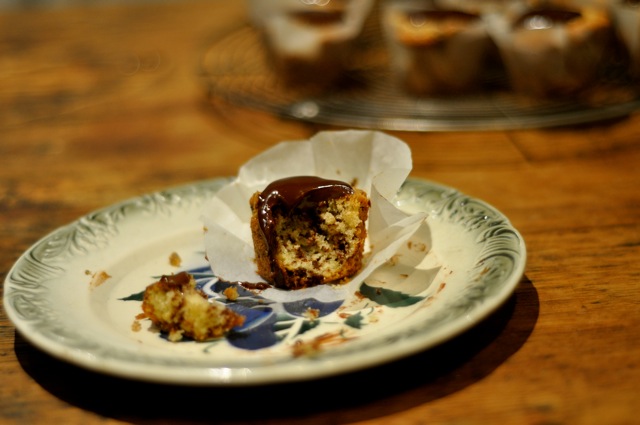 Oh I know what you're thinking. "Tiger? Really? That doesn't look like a tiger at all."
Oh yes it does. See that chocolate ganache running down the side? Tiger stripe, people!
Also, look at the insides. See that brownish, chocolately goodness that's also sort of stripedy? More tiger stripes!
Now perhaps you can understand why we call these little gateaux "les tigres" in France.
Or what I call some of the best little snack-while-you're-running-errands around — if, that is, you can find them.
They are not everywhere. I found them first maybe seven years ago at a patisserie in Biarritz; then again at Stohrer on rue Montorgueil here in Paris. I have bought them one other time, on a Sunday at the Publicis on the Champs-Élyseés, and besides those three places, I've not found my tigers.
I am always on the lookout for them, though.
I love these little cakes. LOVE them.
They are madeleine-like in flavor and chocolate bits (ie "vermicelle" in France — or "jimmies" back home) throughout, making them ever-so-lightly chocolately, but not overwhelmingly so. That's because a thick layer of ganache is on top, which takes this little cake completely over the top in my book, and makes it perfect. No. The crunchy edges make it perfect. This cake has the nicest texture, ever. Like a corner brownie. That hard-to-achieve but oh-so-perfect-when-you-get-it-right soft-crunchy, you know?
I've actually been obsessing over these little cakes and wanting to make them for some time, but I galloped down the book-writing road last year and haven't been playing around as much as I'd like.
Until the other day when I could not not play around any longer.
And…when the LetsLunch posse decided upon a recipe tied to a song for this month's theme, I knew I had the push I needed to finally get into the kitchen and make my tigers.
And…because we're also nearly to Valentine's Day, I realized I already had my song, too: "Teach Me Tiger" by April Stevens. Sometimes things just work out like they should.
Give it a listen. Give these little cakes a try. And share them with someone you love. Waaawaaawaaawaaawaaa.
Tiger Cakes
Makes 24 cakes
1 cup/120 grams of flour
1 teaspoon of baking powder
½ teaspoon of sea salt
1 ½ sticks/180 grams of butter, softened
1 cup/180 grams of sugar
3 eggs, room temperature
½ cup/55 grams of almond powder (I like to lightly toast mine in a skillet)
⅓ cup/60 grams of chocolate jimmies
⅔ cup/100 grams of dark chocolate
⅔ cup/180 ml of cream
1. Preheat the oven to 180°C/350°F and line a mini-muffin pan with muffin papers (or cut out parchment paper to fit, as I like to do).
2. Whisk together the flour, baking powder, and salt. Set this aside.
3. In your mixer, beat the butter with the sugar until it's light and fluffy.
4. Add the eggs one at a time, beating each one for nearly a minute and scraping down the sides of the bowl between each one.
5. Add the flour mixture and the jimmies and mix just until combined – you don't want to overmix.
6. Scoop the batter into the muffin molds (you want to fill them halfway), and then pop into your oven for 15 to 18 minutes, or until the cakes are slightly brown on the edges. Take these out and let them cool on a baking rack.
7. When the cakes are cool, make your ganache: Chop up your chocolate, toss it into a bowl and set aside. Warm the cream over medium-low heat, and when it's bubbling on the sides, pour it over the chocolate. Let the warm cream melt the chocolate, and whisk to combine. Spoon your ganache over your cooled cakes. You can serve right away or let the ganache harden a little bit — either way, they're just greeeeeat!
Here's what the rest of the gang came up with: