Tomato, Olive + Ricotta Tart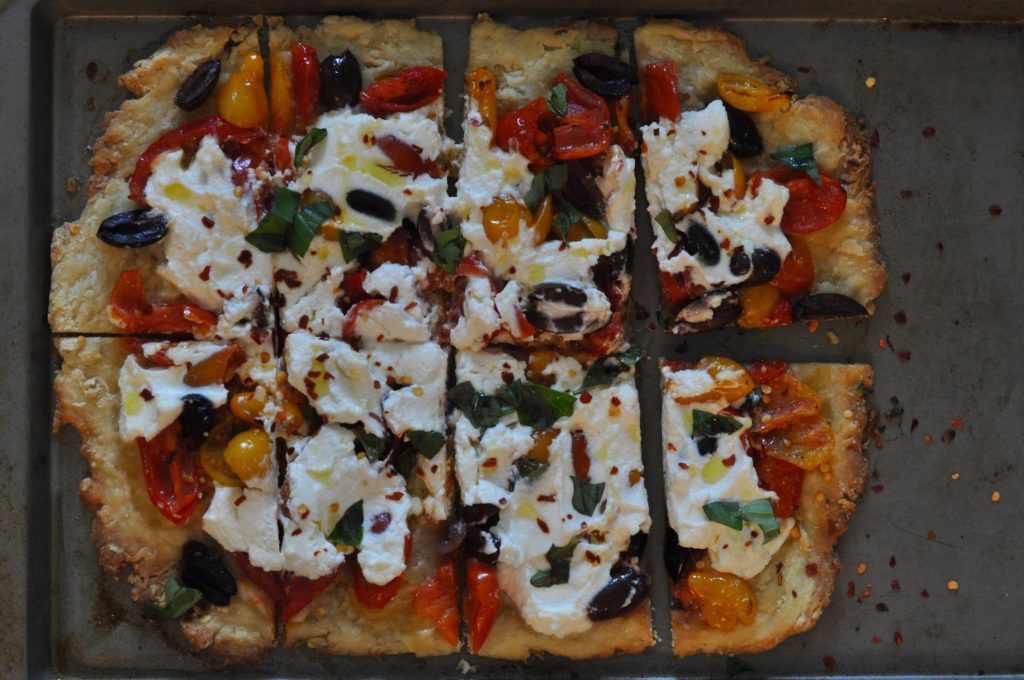 When, at the end of the day, you realize you're sorta in the mood for pizza, but don't want to deal with making your own dough, here's the solution.
Say hello to your speedy, pizza-like replacement for the summer: the Tomato, Olive + Ricotta Tart.
I've been sitting here most afternoons in Santa Fe, writing like mad, and sometimes thinking about what I'll eat for dinner around mid-afternoon. This is not how I normally operate. I'm a two or three-day ahead on the meal planning type of gal.
Which is to say when I saw a David Tanis' recipe for a tomato tart in The New York Times recently, touting a crust that comes together in 5 minutes, I figured I'd give it a try. It's not unlike my flatbread dough, but here, there's an egg instead of baking powder. I've used my flatbread dough in the same way, as a pizza dough stand-in, and it works great, but I wanted to try Tanis' recipe for something different.
Since I had some cherry tomatoes with about a day left before they shriveled up entirely, I made a version of my No-Cook Tomato sauce and let it hang out on the counter for a few hours while I continued to work. Later, when it was time for dinner, the dough came together while the oven warmed up.
Like any sort of flatbread or tart dough, think of this as something that you can go to when you're out of ideas for a quick, easy dinner or if you need something as to serve as a starter. Thinly sliced tomatoes would work well here, and you can swap out the ricotta for whatever cheese you'd like. Try sliced zucchinis, green and yellow, plus chèvre. Use these as a vehicle to smash your avocado on, or as a holder for a handful or two of mesclun or arugula, dressed simply with Pedro Ximenez sherry vinegar and olive oil. Go light. Or go a bit heavier, as I did here. Serve it hot out of the oven or at room temperature. Easy. Like summer.
Tomato, Olive + Ricotta Tart
Makes 1 tart
1 pint cherry tomatoes
¼ cup olive oil
a few leaves fresh basil
salt and pepper
2 cups flour
¼ cup olive oil
¼ cup water
1 egg, lightly beaten
pinch salt
10 kalamata olives, pitted and halved
⅔ cup ricotta
red pepper flakes
Make the cherry tomato no-cook sauce. Put the tomatoes, olive oil, basil and salt and pepper to taste in a bowl. Toss. Let it hang out on the counter for an afternoon.
Preheat the oven to 450°F.
To make the tart dough, mix together the flour, olive oil, water, egg and a pinch of salt in a large bowl. If it's too dry, add a tiny bit more water. You can make this in advance and keep in the fridge or roll it out right away. It makes enough for 2 thin-crust flat tarts about 9-inches by 12-inches, so when you're ready to make the tarts, divide the dough, put half in the fridge and roll out the other half. I do this directly on a large baking sheet. Because there's so much oil in the dough, it's easy to work with.
Put some of the cherry tomatoes on the dough and add the ricotta, kalamata olives and pepper flakes. Bake for 12 minutes or until the edges of the crust are browned. Slice and eat.