Tourteau Fromage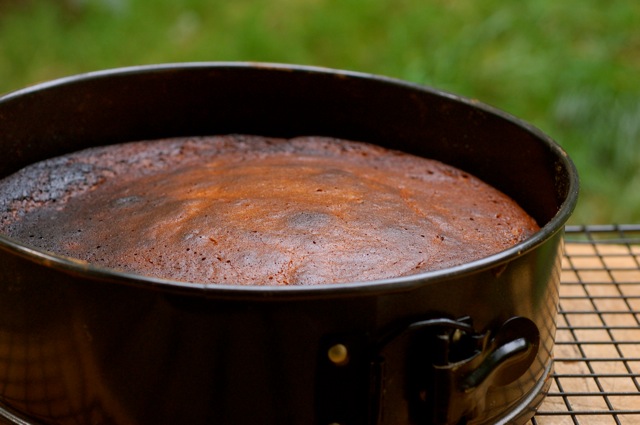 "Don't take this out of the oven before it BURNS. When it's done, the top will be black."
So say the instructions for cooking this traditional French "cheesecake," made with fresh, Frenchy goat cheese instead of good ol' American Philly, and cooked until it looks like something that you forgot about while you were on the phone with your best friend, discussing whether or not to buy the new Freelance boots this fall, or wait until les soldes in January.
It's the ugliest cake you've ever seen.
Once again proof that you can't judge a livre by its cover, this awful-looking gateau, my dear readers, is something like you've never tasted before — a wonderfully dense, yet at the same time light "cake" that works as well for breakfast as it does with an after-dinner drink, which is how I first tasted this (and which I'll get to in a second). There is an outer "shell," and a soft inside, much like, well, a certain kind of sea side-crawler.
Literally called "crab cheesed,"  this cake has nothing to do with crab except its traditional rounded top and rounded bottom shape, which I believe can only remain so in super-hot magic ovens manned by goat herding French men who've acquired the recipe and the know-how to make it puff and stay that way from whispers, secret handshakes, and a recipe kept under lock-and-key.
Otherwise, it's a poof-and-fall situation.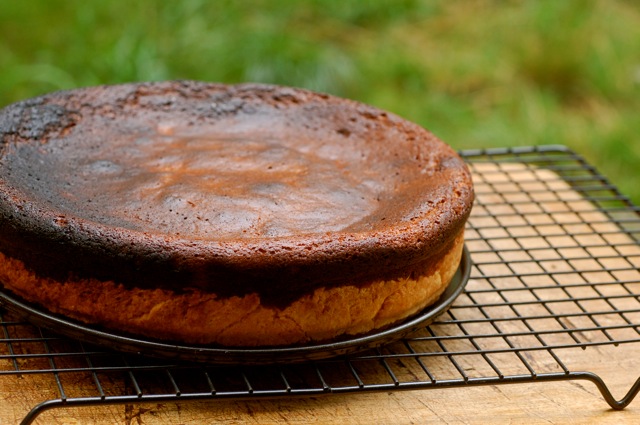 Each time I've tried to make this cake, it caves in like a souffle that the oven door's been slammed on. After a few tries, I've given up on the cute domed top, which, I must tell you, hasn't hurt the taste or texture one single bit.
I first tasted this when I was visiting my pal Kate Hill in Gascony last year, who, after dinner one evening, escorted me past the fig tree heavy with fruit, over a little wooden bridge and onto her barge/living quarters, where she poured me a glass of Gascon gold (aka Armagnac), and sliced off a hunk of this strange-looking cake with a burned top crust, toasty brown bottom, and soft insides.
Oh my gawd. What is this? I exclaimed, noting, too that the Armagnac was the perfect foil to this very uncheesecakey crab cheesed.
Tourteau fromage! said Kate, raising her glass and giving mine a clink.
We had a slice, and then another. Or three. I can't remember. But what I do remember is that cake stuck with me, and from that point on, I searched for it, wherever I went.
Turns out, this cake usually comes from a fromager, or cheese shop, and not a patisserie, and even so, I couldn't find one in my neighborhood, or anywhere around Paris, even. I went to every cookware shop in Paris that I knew of and one by one, asked them if they had the mold for this exotic cake, and each one told me that non, they did not. I searched for recipes on the internet. None of them made sense. I gave up. The ellusive cake was not to be mine, I finally decided.
Two months later, I found myself (along with X and Rosedog) in the west of France, in the region of Poitou, which, it turns out is France's goat cheese capital, and the heart of crab cheesed land.
It was Christmas, and we were on our way to Biarritz, and we'd decided to spend the night halfway along the journey, about 4 hours southwest of Paris, in the tiny village of Vallans, near Niort. We pulled into the little chambre d'hote just in time for dinner, and after homemade aperitifs, a creamy vegetable soup, rabbit braised in pinot noir, and creme brulee with cognac for dessert, we had 10 different kinds of goat cheese.
The next morning, over coffee, Bruno, the owner, who in a former life had been a pastry chef, and I were discussing different cakes, when I asked him if he knew about this little gateau.
He smiled and walked to the kitchen and returned with a little cookbook, weathered by age and with its corners curled up. "Recueil de Gastronomie du Poitou et de la Vendee: 90 Recettes Simples" by Annick Demouy Birand and Clemence Biraud-Cousin.
I asked Bruno how this cake was traditionally eaten, and he told me that it's often something that's served at weddings, with champagne or rose.
Until I get invited to a French wedding in Poitou, I'll just keep making my own. And eating it with coffee, in the afternoon, or in the morning, for breakfast. Or after dinner, if I'm on a barge in Gascony, with Armagnac, too.
Right now, if you'll excuse me, I think that I hear a piece of crab cheesed calling my name.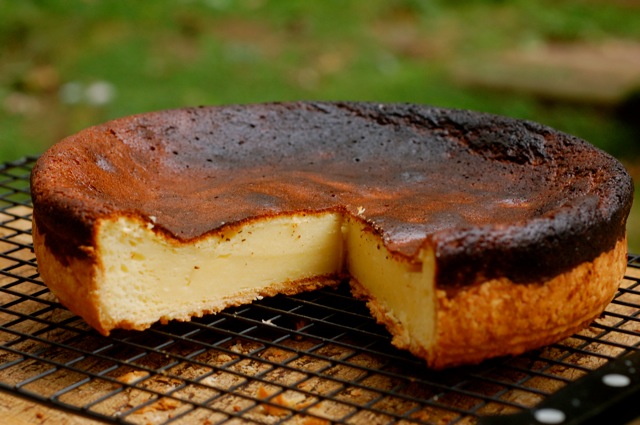 Tourteau Fromage
Adapted from "Recueil de Gastronomie du Poitou et de la Vendee: 90 Recettes Simples" by Annick Demouy and Clemence Biraud-Cousin (1977)
1 recipe pate brisee sucre, recipe follows
6 eggs
350 grams/12 oz. fresh goat cheese
170 grams/6 oz. sugar
85 grams/1/4 cup plus 2 tablespoons all-purpose flour
pinch sea salt
1. Make the pate brisee sucree, and press into a 9 1/2-inch springform pan, going up the sides about 2 inches. Don't worry too much about this being perfect; it's meant to be rustic. Put the crust into the fridge for a half-hour, at least, while you make the batter.

Turn the oven on to 250C/450F.
2. In two small bowls, separate the egg whites from the yellows. In a clean, dry bowl, whip the egg whites until they hold a stiff peak and set aside.
3. In large bowl, mix together the goat cheese, sugar, pinch of salt and egg yolks. Add the flour little by little, just until it's combined. Fold in the egg whites, and pour the mixture into the crust-lined springform pan.
Cook for 35 minutes or until the top begins to burn. When it starts to smoke, you'll know it's ready. Just let it cool completely before slicing.
Cowgirl Tip: You might want to turn off the smoke alarm before making this. Seriously.
Pate Brise Sucree (Sweet short pastry crust)
Adapted rom Kate Hill's "A Culinary Journey in Gascony"
1 cup flour
¼ teaspoon sea salt
2 tablespoons sugar
¼ cup butter
¼ cup ice water
1. Put the flour, salt and sugar in mixing bowl or food processor. Add the cold butter, sliced into pats, and mix or pulse until mixture is crumbly.
2. Stir in ice water and mix quickly. If you need more, just add the tiniest bit at a time. You only want the dough to come together in a ball in your hands.
3. Roll out dough in a circle about 1/2-inch thick. Place in fridge for a half hour before rolling out.