Turkey Gumbo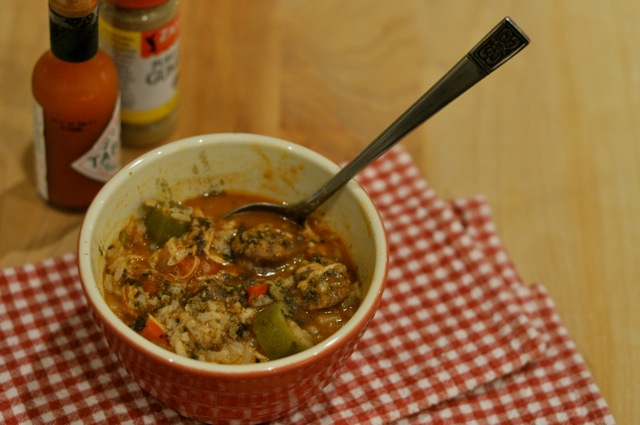 I told you I was going to make gumbo…and now that I have, I can't believe it took me so long. Thing is, I had an old recipe for a gumbo very much like this, but somewhere along the way, I lost it, or misplaced it, or something. And I didn't think that I could make a gumbo that would taste as good as the one I made back in the (gasp) late 1980s, when I was living in a very small apartment with an even smaller kitchen.
Which just goes to show you. Kitchen size really doesn't matter. Magic can happen wherever you are.
As I melted the stick of butter and stirred the flour in bit by bit with one of Mom's long-handled wooden spoons, I felt a little out of practice, a bit unsure about how far to let the roux go. I kept on stirring, as its color deepened and intensified. I'd done this before, I told myself, and when it was as it should be, I'd just know.
And I did. When the roux went from a dark brown to a reddish brown, and I began to smell a nuttiness, I knew that I'd just made a perfect roux. I added the rest of the ingredients, let it all cook for awhile, and soon had a gumbo that may just be my best ever. Better than all of my gumbos past, even.
Turkey Gumbo
Makes 8 to 10 servings
1 stick/125 grams of butter
½ cup/62 grams of flour
1 onion, diced
4 cloves of garlic, minced
2 celery stalks, sliced
1 green bell pepper, diced
½ of a red bell pepper, diced
32 ounces/1 liter of chicken stock
28-ounce/792 gram can of diced tomatoes
a big pinch of Cayenne
1 teaspoon of sweet paprika
½ teaspoon of thyme
2 Bay leaves
2 cups/450 grams of leftover turkey, shredded
4 links of spicy sausage (about 1 pound), sliced
1 cup/113 grams of frozen okra
4 cups/632 grams of cooked white rice (for serving)
gumbo filé (for serving)
1. Make your roux: Melt the butter in a deep soup pot over medium-low heat and little by little incorporate the flour, stirring constantly until the mixture turns a deep, reddish brown. Be patient – this is the most important part, and it'll take about 15 minutes.
2. Add the onion, garlic, celery, and bell peppers to the roux and keep stirring until the onion becomes translucent, about 5 minutes.
3. Hard part's over. Pour in the chicken stock and tomatoes, and add the Cayenne, paprika, thyme, and Bay leaves, increase the heat to medium and bring to a boil. Once it boils, reduce the heat to a simmer, add the turkey and sausage, and cook for an hour. Add the okra towards the very end. It doesn't need much time to cook at all. Let your gumbo cool, then refrigerate — it'll taste better the next day. When you're ready to serve it, just warm it up, and serve with a spoonful of rice, a pinch of gumbo filé…and you're there.