Turkey-Tomatillo Soup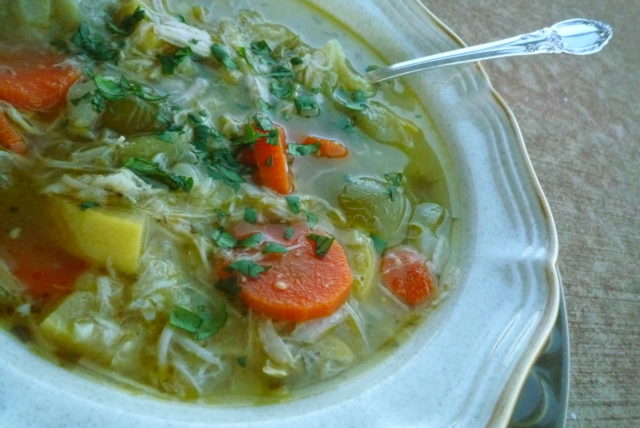 My mom thinks that I'm a little bit crazy, and maybe she's right. Usually the day after I arrive from Paris, I borrow her truck and drive 25 miles into town, to the Sack 'n Save in Denton — and load up the basket with fresh tomatillos, jalapenos, serranos, guajillos and other dried chiles, and start dreaming up new things to make with these familiar, yet impossible-to-find-in-Paris ingredients.
After a week or two of salsas, stuffed chiles, and fiery pepians, Mom looked at me, as I was roasting poblanos in the cast iron skillet that she uses only for cornbread, it turns out, and said with a sigh, "Is everything you make spicy?"
Well, no — but when I can get my hands on fresh chiles, baby, I'm gonna use them.
Ditto on tomatillos, which look like, but aren't, green tomatoes, and to add to the confusion, are actually called jitomates verdes (green tomatoes) in Spanish. Call them what you will, but don't substitute green tomatoes for tomatillos, because it's not the same at all. Tomatillos have a viscous center, and, especially after being boiled or roasted in a comal (or Mom's cast iron skillet) a slightly sweet, tart flavor that's a perfect counterbalance to jalapenos, or serranos, and a bit of cilantro. I adore them, and perhaps love them even more because I only get to enjoy them when I'm in Texas.
Naturally, when it came to thinking about what I could post for the Thanksgiving leftovers-themed #letslunch bunch on Twitter, I thought of tomatillos and – sorry, Mom – serrano chiles for a little heat.
So with the idea of a beautiful green soup as my background, I thought about what colors I'd like to most see along with that, so I added orange (carrots) and yellow (squash – which I couldn't believe I could find in the Sack 'n Save, but apparently, they're available year-round, according to Mom). The result: a soup that's both pretty and delish, and with just a bit of heat. Would be just as easy to make with chicken, too, and you can use leftovers — or not.
For the rest of the Let's Lunch posts, simply go to Twitter and type in the hashtag #letslunch.
Turkey-Tomatillo Soup
4 cups turkey meat (white and dark)*, cut into 2-inch pieces
1 medium yellow onion, 1/4-inch dice
4 cloves garlic, minced
8-10 medium to large tomatillos, quartered
1 serrano chile, minced, with seeds
3 medium carrots, sliced
2 small yellow squash (green zucchini will work, too), sliced and quartered
28 ounces chicken broth
4 cups water
2 tablespoons chopped cilantro
1 teaspoon oregano
½ teaspoon cumin
sea salt
olive oil
1. Drizzle a bit of olive oil in a heavy stockpot. Add onions and garlic and turn heat on medium-high. Cook until onions become translucent, about 5-10 minutes.
2. Add carrots, turn heat down to medium-low, and cook for another 10-15 minutes.
3. Now, add tomatillos, yellow squash, cilantro, serrano, chicken stock, and water.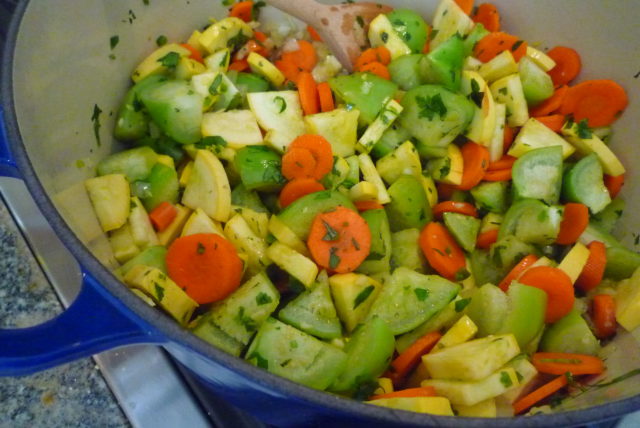 4. Add oregano and cumin.
5. Let soup come to a boil, then turn down to a simmer. Now, add cooked turkey, and let cook for 10 minutes or so, just until turkey is warmed through.
Serve with a squeeze of lime and chopped cilantro.
*If not using cooked turkey meat, simply add the uncooked turkey (or chicken works well, too) when you add the veggies, at Step #3. Just be sure to cook the soup a bit longer than I've noted here — an hour on low heat should do.