Valentine's Day: Chocolate Mousse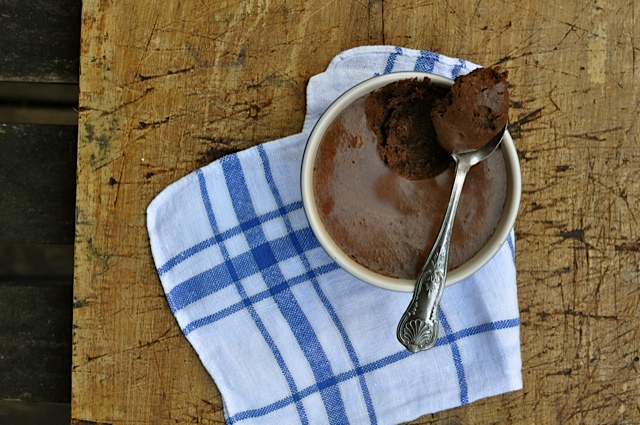 There is absolutely nothing to making mousse. Just chocolate and eggs, pinch of salt, that's all. But it is one of those things, like baguettes and eating yogurt for dessert on weeknights that is very French. It is this sort of simplicity that makes chocolate mousse a perfect dessert, especially for Valentine's Day, when many of us are trying to woo.
You get your hands on some very good chocolate and your mousse is already on its way to dessert greatness.
Mousse doesn't have to be made in tiny ramekins, though it's certainly cute that way. You can heap it all into a big serving bowl and eat it one big giant spoonful at a time. But I don't recommend doing it like this. I suggest eating mousse the French way – how X taught me to do it — one very small coffee spoonful at a time, dipped first in a cup of very strong espresso.
It's funny the things you remember about someone. How some things stick with you forever. I cannot imagine eating chocolate mousse any other way.
Valentine's Day is certainly a good day for eating chocolate, but if you ask me, so is every other day.
Chocolate Mousse
Makes 4 servings
This recipe comes from the back of the Nestle chocolat noir bar in France — and oui, it is this easy.
            1 tablespoon of butter, for greasing the ramekins
            7.05 ounces/200 grams of semi-sweet chocolate (I use 52%)
            6 eggs
            a pinch of sea salt
1. Generously grease 4 (4-ounce) ramekins with butter and set aside.
2. Break up the chocolate into small pieces and melt in a double-boiler.
3. While the chocolate is melting, separate the eggs. Whisk the egg whites with a pinch of salt until firm peaks form.
4. When the chocolate has melted, remove it from the heat, and let it cool slightly (it should only be slightly warm) before adding the egg yolks. (Note: if your chocolate isn't in a large bowl, now's the time to transfer it to a larger one. This will make folding in the egg whites much easier.)
5. Add about one quarter of the egg whites to your bowl and break them up a bit, making sure they're well incorporated into the chocolate. Now, fold into another quarter, and then another, and the final bit. Be sure to use a light touch when doing this; the less you mix, the more lift you'll have from the beaten egg whites. It's okay to have some white streaks. Spoon the mixture into your ramekins and refrigerate for at least three hours.
Check out these other chocolate recipes:
Chocolate Fleur de Sel Bread Pudding with Chocolate Whipped Cream