Vanilla-Orange Yogurt Cake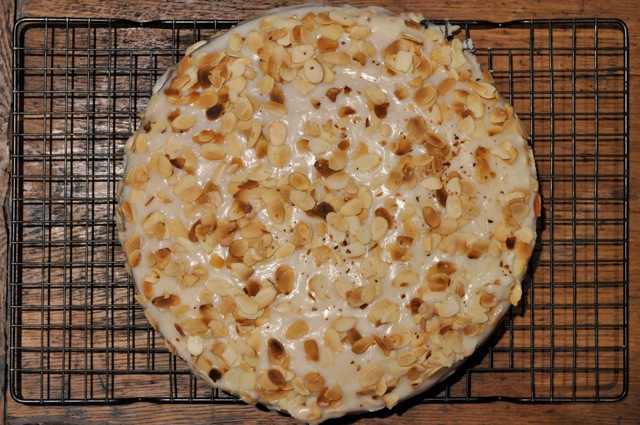 The other day, it was so cold that I was wearing three layers along with my Ugg boots and socks — in the apartment, mind you — and despite the gallons of coffee and tea, I was still freezing.  There was only one thing I could do, I figured. Move my "office" (laptop) to the kitchen, turn on the oven, and bake a cake.
But what kind of cake?
It was just the first of December, but I was getting a bit tired of  the spice cake/gingerbread/pumpkin pie flavor profile, and I wanted something bright, something cheery, yet something that was definitely of the season. I'd bought pears, earmarked for a pear cobbler or crisp, and wasn't that crazy about doing something with the two lone apples in my bowl, either. I could make bread pudding, but it wasn't bright or cheery, but it was definitely warm.
Hmmm. I knew what I didn't want much more than what I wanted, I guess. Isn't that so often the case?
I flipped through cookbooks and found nothing that caught my eye. Then I went over to Food 52, and there in the desserts, I found my dream cake, a posting by cakillgore, who said that this cake (which she called "Orange-Infused Yogurt Cake") was a recipe that her daughter brought home from a cooking class in Austin.
Austin! If that's not divine intervention, honey, I don't know what is. I added two more layers, wrapped a scarf around my neck, and a hat, and tromped down the street, wadded up tissue in hand, and my eyes watering from the minus-3 C temperature, to the stinky stinky Franprix for an orange and some Greek yogurt. I was going to make a cake, and it would be perfect and sunny and bright because it was, after all, a recipe from Texas.
And it was.
I slightly tweaked this recipe, which cakillgore says is a perfect alternative to coffee cake at a brunch — which is true, I'm sure — but it also works for dessert, or any other time of day. But then again, I think that cake is its own food group, and along with cookies, should be eaten every single day, whenever the mood strikes.
This cake in particular.
See that color? That yellow rose of Texas, sun in the sky, shining down on our great state yellow?
So pretty I almost cried.
Decided to have a big ol' piece instead. Then another. Until breakfast, that is.
Vanilla-Orange Yogurt Cake
Adapted from Food52/cakillgore
1 ¼ cups unsalted butter, at room temperature, plus more for greasing the pan
1 ½ cups granulated sugar
4 eggs
2 egg yolks
3 cups all-purpose flour, plus more for dusting the pan
1 ½ tablespoons baking powder
¼ teaspoon sea salt
1 ⅓ cups Greek yogurt
1 teaspoon vanilla
zest of one orange
3 cups confectioner's sugar
juice of the zested orange
½ cup (4 oz.) sliced almonds, toasted
Preheat oven to 350F, and butter and flour a 10 1/2-inch springform pan or 9 X 13 pan.
1. In the bowl of a stand mixer, cream the butter and sugar until fluffy and light. Add the eggs and egg yolks one at a time, mixing well between each addition.
2. In a small bowl, whisk together the flour, baking powder, and salt.
3. In another bowl, whisk together the yogurt, the vanilla, and the orange zest.
4. Alternately, and with the mixer on low if you can, add the flour and yogurt to the mixing bowl, scraping down the sides as often as needed. Mix until smooth, but do not overmix. Pour into the springform pan and bake for 45-50 minutes, or until a tester inserted in the center comes out clean.
5. Whisk together the orange juice and the powdered sugar and pour over the top of the cake while it's still warm. Sprinkle the almonds on top, slice and serve.