Vegetarian Black Bean Chili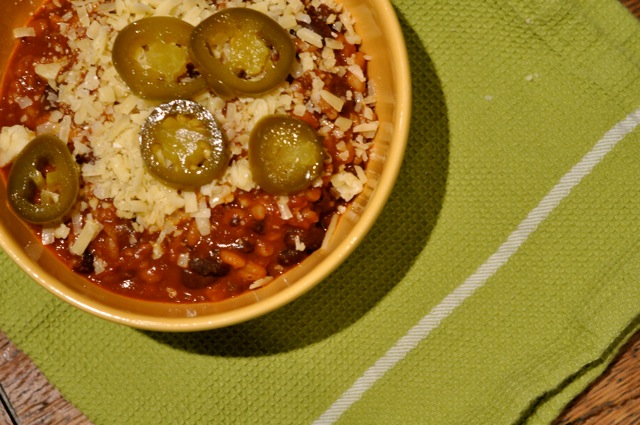 Y'all may have noticed over the last few months, I've gone a bit lighter with the recipes (I'm not talking about desserts, which I believe are the key to happiness). It all started back when X decided to be a vegetarian for two weeks way back in the spring, and I started putting together meatless dinners, because, you know, I'm supportive that way. Truth be told, it was already warmish, so it was quite easy to do, and the less-meat idea sort of just stuck through summer and into the fall, and here we are, in winter, or almost. It certainly feels like it's already here.
As I write this, wet flakes of snow are falling. Again.
Thing is, once X got used to the idea of not eating meat at every meal, he stopped asking for it, which left a lot more room for me to experiment with veggies and different grains, too. It's not hard, either, to get excited about veggies when you've got fresh markets to peruse nearly every day of the week.
We both needed to eat healthier, and I wanted to cut down on what I spent on food each week, too. Turns out that eating less meat was the answer. As a recovered vegetarian, I know this, but living here has introduced me to sooo many lovely things that I'd never find at home, like duck confit (and duck fat), braised beef cheeks, and the joy of eating foie gras on Pringles, I've been sampling it all like I've been at a 24-hour, all-you-can-eat buffet on cheap cruise ship with no dock in sight.
For four years.
It was time for a change. My now-snug, once baggy "Boyfriend" jeans told me this.
So I signed up for yoga classes again a few months ago, and started making dishes like this one, a Texas-inspired, chunky black bean chili, perfect for any cold winter's night, and especially good with Fritos (something that I always bring back from home – which I just ran out of, sadly, last week), grated cheddar, and jalapenos.
It's also a perfect way for me to kick off my participation in Meatless Monday, a growing worldwide movement to urge people to eat 15% less meat as a way to improve their own health and that of the planet, too. Lots of celebs (Gwyneth, Paul McCartney, Simon Cowell, among others) and celeb chefs (Mario Batali, Marcus Samuelson) have gotten on board, as well as the Baltimore School District, which completely embraced the idea for all of its schools.
I love the Meatless Monday idea, too — it's good for us, the planet, and as an added bonus, our pocketbooks, too. I've actually been doing more meatless than meatwith, anyway, so now I'm making it official.
X loves this chili, and says that he likes it just as much as my meaty chili – and perhaps better, but I must make another batch, he says, so he can be sure. He tells me that he just wants to know now if I'm going to make it again this week,  so he can go out and buy some beer.
Pick up a six-pack.
Vegetarian Black Bean Chili
2 tablespoons olive oil
4 cloves garlic, minced
1 medium yellow onion, diced
3 large carrots, peeled and chopped into 1/2-inch dice (appx. 2 1/2 cups)
1 pound black beans, cooked and drained
1 32 oz. can whole tomatoes and juice
1 16 oz. can diced tomatoes in juice
1 5 oz. can tomato paste
5 tablespoons chili powder
1 teaspoon cayenne (or less if you don't want it too spicy)
2 teaspoons cumin
2 teaspoons oregano
1 teaspoon smoky Spanish paprika* (if you don't have this, don't worry — skip it, or add 1/4 teaspoon of chipotle powder)
2 teaspoons sea salt (or more to taste)
2 cups water (you may need more)
4 cups **cooked grains (I use a mixture of pearl barley, oats, wheat and brown rice, but you may use just one grain or a mixture of  your favorites)
cilantro, optional, for serving
lime wedges, optional, for serving
1. In a large stockpot, put the two tablespoons olive oil, the onion and the garlic and turn the heat on medium-high. Let cook for 3-5 minutes, or unti the onions begin to become translucent.
2. Add the carrots and keep stirring them in the pot for a few minutes until they begin to soften and release their carrot-y scent. Add the cooked, drained black beans, the can of whole tomatoes, the can of diced tomatoes, the tomato paste, and gently stir to combine. Add the spices and the water, stir well, and turn the heat to low to cook for an hour.
3. While the chili is cooking, make the grains. Once cooked, you have a few choices. You can add them to the pot and stir them all up; serve them on the bottom of a bowl of chili, or just put a spoonful in the center of the bowl.
Serve with chopped cilantro and lime.
*I use Santo Domingo/agridulce. You may order this online here.
**Cooked grains usually double in volume, so to yield 4 cups of cooked grains, simply use 2 cups of uncooked.