Walnut Tart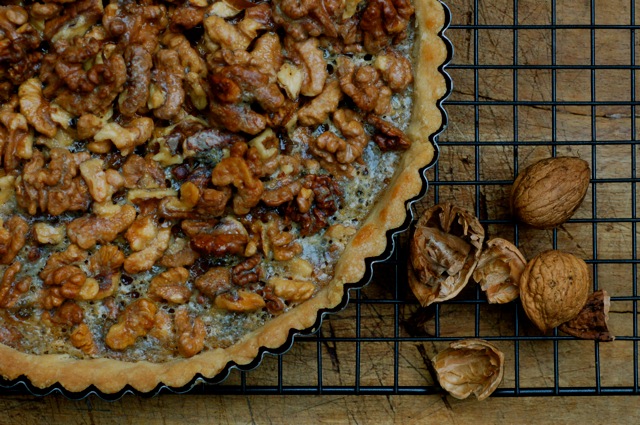 I don't know why I wake up thinking of things like walnut tarts, which, until two weeks ago, I'd never tasted, but I do. I had an enormous sack of walnuts that my friend Catherine gave me from her nut-happy trees in Normandy, but more than that I was thinking about pie, and pecan pie, and how to swap that idea out with something more Frenchy.
I'd seen walnut tarts somewhere, though I can't recall where now, but as it happens, synchronicity struck once again, and there I was, walking down boulevard Beaumarchais after lunch at La Gazzetta with my pal Heather Stimmler-Hall (who gives personalized tours and writes the great blog – very insider-y and très cool, just like Heather,  Secrets of Paris), and there, right there, was the walnut tart that I'd been dreaming of — a small tart-for-one, heaped with walnuts and held together with nothing more than caramel and a sablé cookie-like crust.
I ate the little tart in one sitting (it was small, after all), and the next day, decided that I needed to make my own.
I knew that Dorie Greenspan, the goddess of all things baking, who just released her newest book, "Around My French Table," would have the tart crust that I needed, and I was right. When in doubt, I always turn to Dorie.
I figured that the tart crust needed to bake before I added anything to it, but not too terribly long, so I partially baked her sweet tart dough crust (below), let it cool, and then mixed up the walnut middle.
Unlike a pecan pie, which I find to be cloyingly sweet, this is more Frenchy-salty-caramelly, and more walnuts than gooey filling, which is exactly what I wanted. This recipe is derived from a couple of French ones that I found — one on the website, www.cuisine-et-recette.fr, and another, for pecan tart, in fact, from one in the cookbook, Le Grand Livre Marabout de la Cuisine Facile. I cut way back on the sugar suggested in both recipes because I didn't want a sugary middle with a few walnuts; I was going for the opposite, in fact.
The tart crust — exactly like the French sandy, buttery cookie — was perfect, and one that I'll be using for lots of other tarts in my future.
Discovering this little tart makes me love fall even more. Bring on the windy and the cool, I say. I've got lots of baking to do.
Walnut Tart
Makes 1 tart
287 grams/10 oz. whole walnuts
90 grams/3 oz. butter
154 grams/2/3 cup cane sugar or brown sugar
1 teaspoon vanilla
1 teaspoon sea salt
4 egg yolks
1 partially baked sweet tart crust, recipe follows
Preheat oven to 200 C/400 F.
1. Spread the walnuts out in the half-baked and cooled crust so they're evenly distributed.
2. In a small saucepan, melt the butter and sugar over low heat. Set aside and let cool.
3. In a medium bowl, whisk the egg yolks together along with the vanilla and sea salt. Pour the butter and sugar over this and whisk together. Pour the mixture over the walnuts and slide into the oven and bake for 30 minutes. Let cool completely before eating.
Cowgirl Tip: This is even better the next day, when the filling has a chance to slightly soften the crust's interior.
Sweet Tart Crust
Adapted fromDorie Greenspan's "Around My French Table"
1 ½ cups all-purpose flour
½ cup confectioner's sugar
¼ teaspoon sea salt
9 tablespoons cold butter, cut into small pieces
1 large egg yolk
1. Put the flour, confectioner's sugar, and salt in the food processor and pulse a couple of times to combine.
2. Add the cold pieces of butter, and pulse a few times – until the mixture resembles cornmeal.
3. Whisk the yolk in a small bowl, and add this to the mixture little by little, pulsing as you do so. Once the whole yolk is in, pulse for 10 seconds, and then another 10, watching for the dough to begin to come together in large clumps.
4. Turn the dough out and knead only to allow all of the bits to come together. Now you have two choices — either press the dough into a tart pan with your hands, or flatten it into a disc, cover it with plastic wrap and chill for a couple of hours. Then, when you're ready to roll it out, butter a 9-inch tart pan, roll out the dough and put it in the tart pan. Be sure not to overwork the dough at any stage. This is a very light and buttery crust and too much handling isn't a good thing.
5. Refrigerate or freeze the crust for 30 minutes, at least, before baking.
6. To partially bake the crust: Preheat the oven to 375 F. Center a rack in the oven. Press a piece of aluminium foil against the bottom and sides of the frozen crust and fill with pie weights or dry beans. Bake for 25 minutes, then remove the foil and weights, and with the back of a spoon, gently press the parts of the crust that may have puffed. Slide the tart crust back into the oven for another 3 to 5 minutes, or until the color is light gold. Let cool on a rack before you fill it.