Whole Wheat English Muffins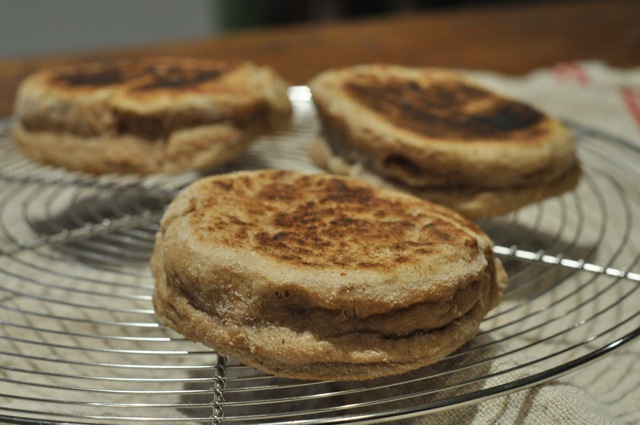 There's a plucky, eccentric American who sells home-baked English muffins at the organic market on Boulevard Raspail on Sundays, and they are as thick as three hockey pucks stacked one on top of the other, and they are absolutely delicious. For a while, I was there every other week, buying up a dozen or so, but I finally broke the habit and now I can't remember why.
I also can't remember exactly why I decided a few days ago that I must make English muffins and I must make them now, but I did, and it launched three days' of buying flour, then more flour, and proofing and watching videos, and making them yet again.
Four times. I made English muffins four times; well, three, if you don't count the first batch, which was ruined because there were bugs in my flour, which I only discovered, naturally, after I'd mixed everything together.
First, I made Michael Ruhlman's recipe, which called for white flour and baking powder added at the end, and I ended up with a fairly tasteless muffin, but that's because I'm not crazy about white flour — but I wondered how the muffins would turn out without baking powder. So I made them again, this time, with the CIA recipe for muffins, and these (photographed above and below) are the result — crispy on the outside, slightly holey on the inside muffins — but I was still concerned because, one, the recipe made a sticky (rather than smooth, breadlike) dough, and two, it only made 4-6 muffins and the recipe promised 12. So I made the same recipe again, and again with wheat flour (I love the nutty taste), and even added a bit of bread flour to thicken up the dough. I cut the dough into 12 pieces, but ended up with 12 tiny muffin balls, and not what you see here. So, as far as I can tell the "makes 12" business in the original recipe (which I've amended) is just crazy-talk. You'll get 6 muffins here, enough for breakfast, and if you want more, then I'm suggesting that you double the recipe.
One other thing. Watch the heat, and keep it low. Otherwise, the muffins will cook too quickly and you'll have crispy outsides and doughy insides.
My suggestion: make the dough the night before you want to eat these and simply cook them up on the griddle, then split them with a fork (very important), toast them, and have them for breakfast.
Whole Wheat English Muffins
Adapted from a recipe by the CIA
Makes 6 muffins
1 package active dry yeast
1 cup warm water
1 teaspoon sea salt
1 tablespoon honey
1 tablespoon butter, softened
2 cups whole wheat flour
½ cup bread flour
¼ cup yellow cornmeal, or as needed
1 tablespoon corn oil, for greasing skillet
1. Place the yeast and warm water in the bowl of a mixer and let stand until foamy, about 5 minutes. Add the sea salt, honey and butter and with the dough hook attachment, mix on low speed.
2. Add the flours and mix until all of the ingredients are blended, then increase the speed to medium-high until the dough is smooth, about 5 more minutes. Shape the dough into a ball, and put it in a lightly greased bowl, cover it with a towel, and let it rise for 2 hours in a warm (but not too hot) place. (Note: you can do all of this in advance, and let the dough rise overnight.)
3. To make the muffins, punch down the dough, and divide it into 6 pieces that you've shaped into discs. Set aside for 30 minutes.
4. Put the cornmeal in a shallow bowl or on a plate. Cover the top and bottom of each disc with cornmeal and cook in a lightly greased skillet over medium-low heat. Each side will take about 5 minutes. Let cool on a rack completely.
5. To eat the muffins, use a fork to split them open and toast. Add tons of salty butter and jam. Repeat.