Yellow Squash Pasta + Pesto and Roasted Tomatoes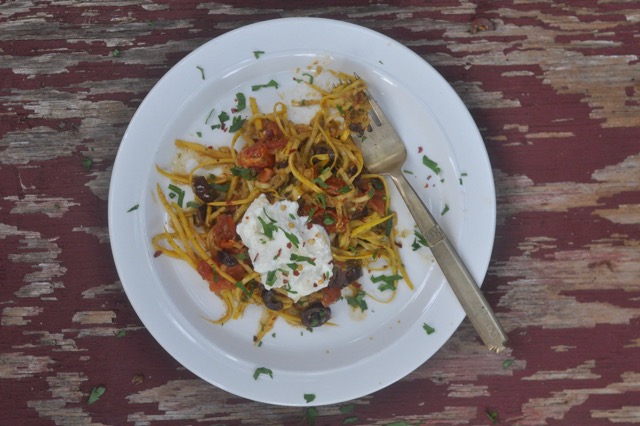 This is a total made-from-scraps dinner – and as is often the case, what I end up making when I think I have nothing in the fridge ends up as something I can't wait to cook again.
I had two smallish yellow squash, a couple of tablespoons of store bought pesto, some roasted tomatoes I'd made the week before, and about a handful of Kalamata olives. All of my favorite things, and not far, in terms of theme and taste, from the Tomato, Olive + Ricotta Tart I'd made a couple of weeks before.
Y'all don't need to go out and buy a fancy spiralizer to make these noodle-y strands from your zucchini. You can find a handheld one anywhere — they look like vegetable peelers –and for less than five bucks, usually. That's what I used here.
You can go green instead of yellow here, and it'll work just fine. The sweet roasted tomatoes were a nice foil to the olives, and the pesto pulled it all together. I felt so virtuous for dessert, I ate the last piece of Raspberry-Hazelnut Cake.
Yellow Squash Pasta + Pesto and Roasted Tomatoes
Makes 2 servings
2 yellow squash (or green zucchini)
10 Kalamata olives
1 tablespoon olive oil
about 1 pint roasted cherry tomatoes*
2 heaping tablespoons storebought pesto
2 tablespoons ricotta
red pepper flakes, for serving
flat-leaf parsley, for serving
With your handheld spiralizer, make long skinny strips out of your yellow squash. Set aside.
Chop your Kalamata olives.
Put the olive oil in a large skillet and when it's hot, add the yellow squash, olives, roasted cherry tomatoes, and pesto. Stir this all around and let it warm through, for about 2 minutes. Divide between two plates or shallow bowls, top with ricotta, red pepper flakes and chopped parsley. Eat.
*To roast your cherry tomatoes, simply halve them, spread out on a large baking sheet, drizzle with a little olive oil, add some salt and pepper and cook in a low oven (200°F) for an hour or so. Save time: do this in advance and keep in the fridge.