Zucchini and Corn Galettes with Green Tahini Sauce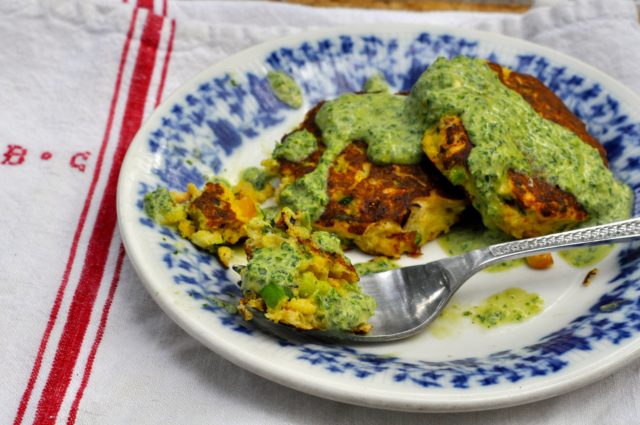 You say fritters, I say galettes.
I can't bring myself to call these sweet summery pancakes "fritters." Fritter sounds so, oh, unhealthy, right? And these are not fried, which I believe a fritter — an Americanized form of the French word, frire, (to fry) — normally would be. Instead, they cook quickly, and with very little oil in a skillet, like pancakes…or crêpes.
Call them what you will, they're lovely, and a great way to use what's in abundance right now (and very inexpensive if you've not grown your own), corn and zucchini.
As y'all may have noticed, I've not made many recipes with corn much at all, and the reason is simply because it's not readily available in France — sure, there may be an ear or two wrapped in cellophane at the Casino in August, and maybe even a few fresh ears at the market, but overall, you just don't find a lot of it around here. Corn's for pigs. And sometimes for sprinkling on top of a salad. But that's about it.
Not the same in Texas, U.S. of A., where it's corncorncorn all summer long. So I decided to pair it up with zucchini, which people are practically giving away this time of year.
The sauce is an adaptation of one I found in Ottolenghi The Cookbook (Ten Speed Press). I made it one day to serve on top of wedges of sweet potatoes, and ended up spooning it on top of pieces of rotisserie chicken, too. I loved it so much, I made it again the next day, and realized it could be my new everything sauce — the tahini base makes it thick and keeps it together, but you can add more water to thin it out for a salad, too, if you want.
Or swap out cilantro for parsley, or add a mixture of fresh herbs, whatever you've got on hand. That's what I plan to do next.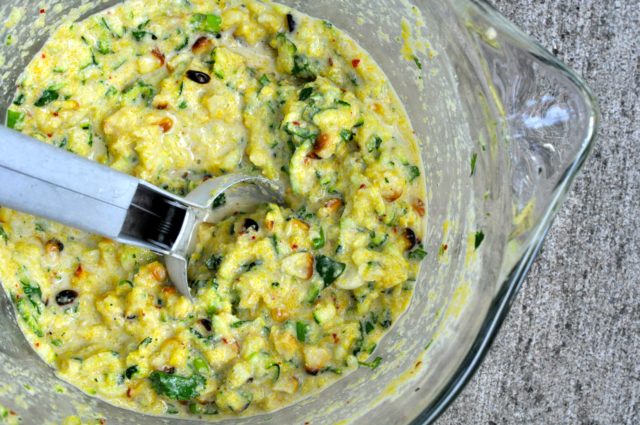 Zucchini and Corn Galettes with Green Tahini Sauce
Makes 18 (3-inch) galettes
            3 ears of fresh sweet corn, shucked
            2 cups of shredded zucchini (from two small or 1 large zucchini)
            4 green onions, chopped
            1 small handful of fresh cilantro, roughly chopped
            1 cup/145 grams of cornmeal
            2 teaspoons of baking powder
            1 teaspoon of sea salt
            ½ teaspoon of Aleppo pepper
            ⅛ teaspoon of cinnamon
            ½ teaspoon of cumin
            2 eggs
            1 (5.29-ounce) container/150 gram of Greek yogurt
            1 cup of water
            2 tablespoons of vegetable or canola oil
            Green Tahini Sauce, recipe follows
1. Preheat oven to broil.
2. Put the cleaned corn cobs under the broiler and cook until browned on all sides. Remove, let cool, then slice off the kernels with a sharp knife. (Note: You can do this ahead of time and keep in the fridge until you're ready to make the galettes.)
3. Put the corn, zucchini, cilantro and green onions in one bowl.
4. In another bowl, whisk together the corn meal, baking powder, sea salt, Aleppo pepper, cinnamon and cumin.
5. In a small bowl, whisk together the eggs, yogurt and water. Add this mixture to the dry ingredients and stir together. If the batter is too thick, just add a bit more water. Fold in the vegetables.
6. Heat 2 tablespoons of the vegetable oil in a large skillet over medium heat. Using your ice cream scoop, add as many galettes as you can, leaving an inch between each one (they'll spread slightly). Cook for a couple of minutes, or until the bottoms are brown and toasty, then flip to the other side for another few minutes. You don't want these to cook too fast, or they'll be wet in the middle (you may need to turn the heat down once the skillet gets hot to prevent this.) Serve right away with Green Tahini Sauce or keep warm in a 200°F degree oven.
Cowgirl Tip: These reheat beautifully. Just pop them in the toaster or toaster oven.
Ottolenghi's Green Tahini Sauce
Makes about 1 cup
Adapted from a recipe in Ottolenghi The Cookbook
            1 clove of garlic
            ⅔ cup of tahini
            about ½ cup of water (more or less, depending on how thin
             you'd like it to be)
            ¼ cup of lemon juice
            1 small bunch of parsley (I use the curly, but flat will work, too),
            with stems
            ½ teaspoon of sea salt
Put the garlic in your food processor and finely chop. Add the rest of the ingredients, then refrigerate until ready to serve. Great on top of vegetables, meats, or even as a salad dressing — just thin it out with more water.