Zucchini Oatmeal Bread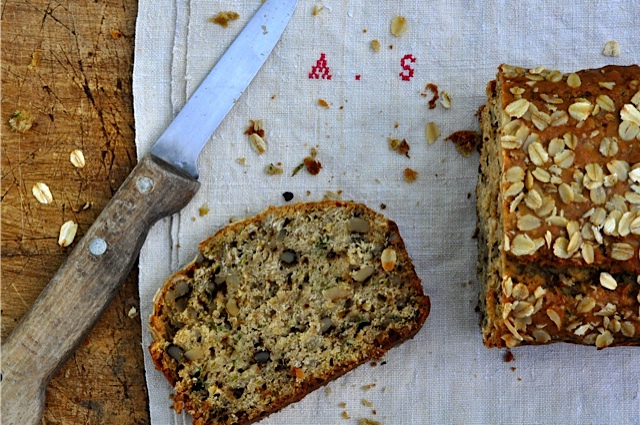 Zucchini breads can be awfully boring things, but who wants to break up with zucchini bread?
Not me. But I can't remember the last time I made it.
Enter my new big zucchini bread love, one of substance and complexity, with a gorgeous, dark caramel crust and tender, moist insides. The blackish specs you see throughout? Walnuts. And there's plenty of zucchini and oatmeal, too, making this one of those cakey breads that's as healthy as it is delicious. Or maybe it's more delicious. You decide.
I've been toasting a thick slice in the morning and having it with my coffee, and it would be especially wonderful with fleur de del butter from Normandy on top, but alas, I have none of that in my fridge right now. If you're a cream cheese person, that would also work. You might even drizzle a bit of honey on top — but I like this because it's not too sweet. Which means I can eat more of it.
Zucchini is at crazy cheap prices at the farmer's markets and grocery stores right now, and I plan on making and eating as much of this as I can.
Zucchini Oatmeal Bread
I saw this recipe in Bon Appétit and knew I needed to make it quickly, while I had plenty of zucchini on hand. This is basically their recipe with my tweaks — I swapped out coconut oil for vegetable oil, omitted the white sugar and used only brown (and less of it), and I doubled the amount of oatmeal in the recipe, but this was simply a mistake that turned out not to be one at all. I love it when that happens.
Makes 1 loaf
            1 egg
            ½ cup of coconut oil (I use refined so my cake isn't coconutty)
            ⅔ cup of brown sugar
            ½ teaspoon of vanilla
            1 ½ cups of flour
            ¾ teaspoon of sea salt
            ½ teaspoon of cinnamon
            ⅛ teaspoon of nutmeg
            ½ teaspoon of baking soda
            ½ teaspoon of baking powder
            2 cups freshly grated zucchini
            1 cup of oatmeal, plus 2 additional tablespoons for the top
            ½ cup of chopped walnuts
1. Preheat your oven to 350°F and line a loaf pan with parchment paper.
2. Whisk together the egg, coconut oil, brown sugar and vanilla.
3. In another bowl, whisk the flour, cinnamon, nutmeg, salt, baking soda and baking powder. Add this to the wet ingredients.
4. Fold in the zucchini, oatmeal and walnuts, mixing just until combined. Pour into your prepared loaf pan and sprinkle the 2 tablespoons of oatmeal on top. Bake for 40 to 50 minutes, or until a tester inserted in the middle comes out clean. Transfer right away to a wire rack and let cool completely. 
This is great for breakfast, toasted with butter or cream cheese on top, or for a mid-afternoon avec your coffee snack.