Zucchini Spaghetti with Turkey and Mushroom Sauce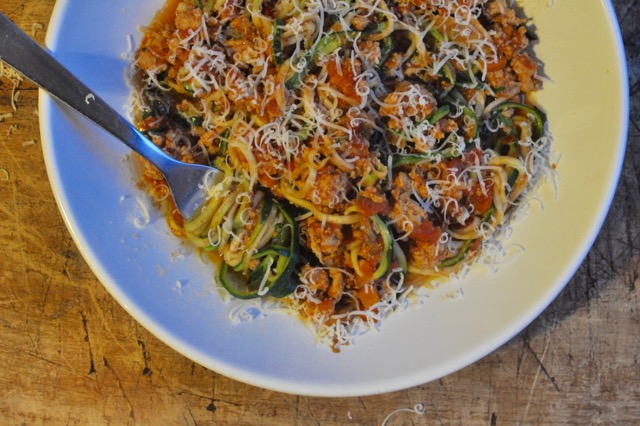 I thought, as many of you might, how good can noodles be made from zucchini? Won't they be soggy? Wouldn't they make everything else taste weird?
But these things kept popping up everywhere. In food magazines. On Pinterest (I know, I know). People raved about them. Raved, I tell you. So, after wondering for months whether I should try this crazy-sounding vegetable noodle trend, I took the plunge, made the leap, and jumped right on in.
With much skepticism, I ordered my bottom of the line, super cheapo "spiralizer" on Amazon.fr, and it arrived a few days, maybe a week, later (Same day delivery in France? Hahaha!). It looks like a two-ended pencil sharpener — and that's exactly how it works. After cutting off the end of the zucchini (no peeling necessary), you just twist and twist until most the dang thing has magically (!) turned into spaghetti-like strands.
The second time I did this, I learned that you need to use your kitchen scissors and cut them ever 12 or 14 inches or so, or it's impossible to pull off the Italian twirl and eat. So you twist and cut, twist and cut, twist and cut until you've got a pile of zucchini spaghetti.
One mediumish zucchini was the right amount for me.
All you do is heat up your sauce (in this case, was just 2 cups of Turkey and Mushroom Sauce that I took out of the freezer), and when it's bubbly, throw in your zucchini spaghetti for 2 minutes or so or until they reach your favorite al dente-ness.
That is all you do. They are indeed wonderful little spaghettis. I loved this so much I made some the next night, too. The only deal is with these flimsy pencil sharpener contraptions is you're limited to zucchini and maybe carrots because of the size.
I'm already thinking about an upgrade.
Turkey and Mushroom Italian Sauce
This is a lighter take on the spaghetti sauce my mom used to make. Like most meat sauces, this is better the next day, so plan accordingly.
2 tablespoons olive oil
½ cup diced onion
2 cloves garlic, minced
½ pound/8 ounces white mushrooms, cleaned and sliced
¼ red bell pepper, diced
1 medium carrot, diced (about 1/2 cup)
1 pound ground turkey
1 (28-ounce) can chopped tomatoes
2 tablespoons tomato paste
1 teaspoon dried oregano
1 teaspoon dried basil
salt and pepper to taste
Put the olive oil, onion and garlic in a medium-size stockpot over medium heat and cook until the onion starts to become translucent and you can smell it cooking, 5 to 10 minutes.
Add the mushrooms and let them cook and soften — they won't get brown and crispy but they'll softly cook in about 5 minutes. Salt and pepper as you go.
Add the red bell pepper and carrots and cook until these soften, about 10 more minutes.
Put the ground turkey in the stockpot, stir and let cook through, another 5 minutes or so. Now add the tomatoes, tomato paste and spices and stir until combined. Let cook for about an hour.
Cowgirl Tip: When I make this, after it's cool, I divide it into 2-cup portions and put them in plastic freezer bags and keep them in the freezer.